Liam Hemsworth Is Said to Be 'Mortified' by Miley Cyrus' VMA Display as Raunchy 'Bangerz' Promo Photos Hit the Web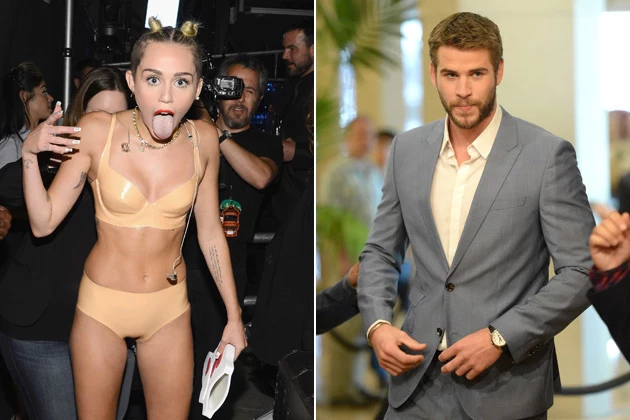 Has Miley Cyrus got your attention yet?
If her much-discussed MTV VMAs performance somehow hasn't made you take notice, then maybe a new set of promotional shots for upcoming album 'Bangerz' will!
In the pictures (which you can view here), Miley is shown in a variety of poses and clothing, one more scandalous than the next. Clothing options include a see-through top with strategically placed suspenders, a crop top showing off a hint of thong, and a short black coat with no pants — the same outfit from the 'Bangerz' cover art, but showing way more cheek. Interestingly, when dressed in her most conservative attire (crop top and long checkered pants), she gives us her most lewd pose (grabbing her crotch).
'Bangerz' is due in stores Oct. 8. That leaves several more weeks for Miley to grab the attention of anyone who might have been on vacation without TV or Internet!
Meanwhile, Liam Hemsworth is said to be 'mortified' by Miley's raunchy display at the VMAs, with associates urging the actor to distance himself from his on-again, off-again fiancee.
"Her VMA performance absolutely mortified him and he couldn't be more embarrassed," one of Liam's friends tells RadarOnline.com. "He doesn't really see anything sexy about what she did on stage."
"It's not just Liam that Miley is pushing away," the source continues, "his entire team is urging him to part ways with her because she's nothing but negative for his reputation and career. Liam is a serious actor with a growing career, while Miley has just turned into a joke."
Ouch! But the friend saves the most painful news for last: Liam will end the relationship soon because, "He doesn't want to babysit her anymore."

Source:
Liam Hemsworth Is Said to Be 'Mortified' by Miley Cyrus' VMA Display as Raunchy 'Bangerz' Promo Photos Hit the Web