Miley Cyrus Gives Lorde Shout Out After Fans Threaten Her on Twitter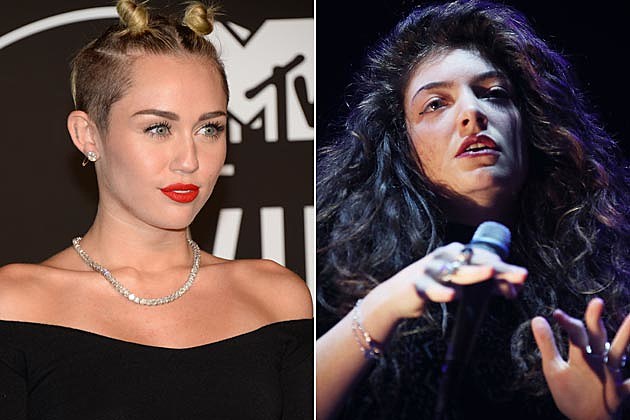 Miley Cyrus expressed her dissatisfaction with Smilers behaving badly in a succinct and smart way.
When Lorde and her hot track 'Royals' overtook Cyrus' 'Wrecking Ball' for the No. 1 slot on the iTunes chart, Smilers reacted by being mean and threatening the New Zealand singer with the golden voice. Lorde is only 16, so she is pretty much the same age as many of Miley's most ardent fans.
We get it, though. The Smilers love Miley and that's their way of defending their heroine.
Lorde issued a tweet about the hate (or tweet heat) being spewed and thrown her way, which prompted a reaction and props from Cyrus herself.
Here's Lorde's tweet.
wo #1 on US itunes. even if it lasts an hour i feel HAPPY. downside is all these miley fans telling me they're gonna stab my rotting corpse

— Lorde (@lordemusic) September 19, 2013
Notice Lorde did not tag Cyrus directly in the post, but the 'Wrecking Ball' singer, who is an active tweeter and has an extremely busy feed, still saw it and replied! That was way cool of her.
Miley complimented Lorde and noted that she didn't appreciate any hate being sent her way. It was her nice way of scolding bratty behavior.
At least we know Miley has good taste in music.
@lordemusic why r people so mean??? Ps your music is awesome

— Miley Ray Cyrus (@MileyCyrus) September 20, 2013
No pop diva warfare here!

Source:
Miley Cyrus Gives Lorde Shout Out After Fans Threaten Her on Twitter