'The Voice' Live Show Recap: The Top 12 Perform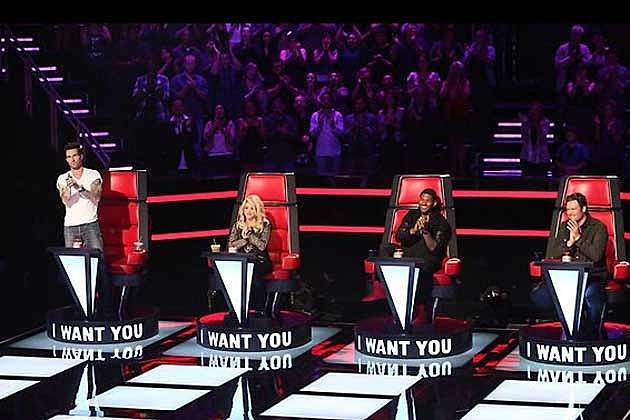 On tonight's (May 13) live edition of 'The Voice,' the Top 12 performed for America's votes. There are no more coach's saves. It's all up to the voting viewers. The show tapes in L.A., which is in the grip of a heat wave that knocked out the air conditioning at the studio. So the coaches and the performers were sweltering inside the building, upping the ante and adding to the drama.
Sarah Simmons: The powerhouse considers herself an alternative artist. She proved that by singing Brandi Carlile's 'The Story,' which pulled her out of her belter's comfort zone.
Subscribe to 92 Moose on
Judith Hill: She's a soul singer who loves to sing pop. She sang Carole King's 'You've Got a Friend' while playing piano, showing the breadth and depth of her talent and skill.
Subscribe to 92 Moose on
Amber Carrington: She wants to be a country star who crosses over into pop — so she wants to be like Taylor Swift. She chose Martina McBride's 'I'm Gonna Love You Through It,' since it was so personal for her, as her mother died of breast cancer. It was beautiful and touching.
Subscribe to 92 Moose on
Holly Tucker: Whoa! She belted out Martina McBride's 'A Broken Wing' and it was just lovely.
Subscribe to 92 Moose on
Swon Brothers: The only duo in the competition, the country boys did 'Who's Gonna Fill Their Shoes' by the late George Jones. It was a gorgeous acoustic rendition and touching tribute to the singer known as The Possum.
Subscribe to 92 Moose on
Danielle Bradbery: She sang 'Wasted' by Carrie Underwood, and it was good, but not as standout as her fellow competitors on Team Blake.
Subscribe to 92 Moose on
Vedo: He sang and danced to Michael Jackson's 'Rock With You,' beating the heat. He was vibing.
Subscribe to 92 Moose on
Josiah Hawley: He showed technique and skill with his acoustic rendition of The Script's 'The Man Who Can't Be Moved.'
Subscribe to 92 Moose on
Michelle Chamuel: The quirky singer rocked 'Call Your Girlfriend' by Robyn.
Subscribe to 92 Moose on
Garrett Gardner: The teenager heartthrob turned in a rock version of the Backstreet Boys' ballad 'I Want It That Way.' It was certainly unexpected.
Subscribe to 92 Moose on
Sasha Allen: Shak pointed out she needs to deliver a modern and "pop" performance as opposed to a dramatic, Broadway-style vocal that tries to reach a multitude of people. She sang Heart's power ballad 'Alone.'
Subscribe to 92 Moose on
Kris Thomas: The crooner was about to join the military but decided to try out for the show instead. He sang 'I'll Be There' and it was sweet, and very high!
Subscribe to 92 Moose on

Source:
'The Voice' Live Show Recap: The Top 12 Perform