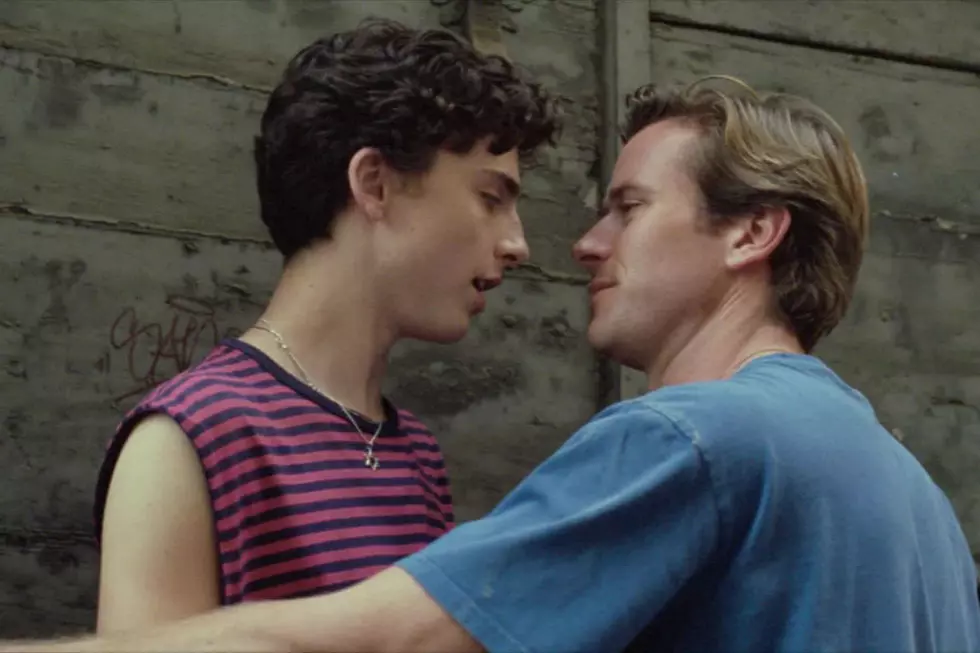 2018 GLAAD Media Awards Nominees Include 'Call Me By Your Name,' 'A Fantastic Woman'
Sony Pictures Classics
There was one thing I kept saying to people again and again throughout 2017: "There are so many good queer films this year!" Instead of just having one or two favorite films of the year about queer or trans characters, as I did in previous years with Tangerine, Carol, and Moonlight, in 2017 five LGBTQ movies made my top 20 list, and that number is higher when including the films with supporting queer characters. It was a phenomenal year for inclusive and powerful storytelling, and the GLAAD Media Awards nominees reflect just that.
Each year, GLAAD recognizes the best in film, television, comics, and journalism that reflect fair, accurate and inclusive depictions of the LGBTQ community. Last year's awards notably had the fewest LGBTQ wide release nominees since 2004 – only Moonlight and Star Trek Beyond (which had a blink-and-you'll-miss-it queer inclusive moment) were nominated. More often, LGBTQ characters and storylines are found in limited releases, but in 2017 that shifted, with multiple major releases featuring well-written queer and trans leads and supporting roles. This awards season, GLAAD had plenty of nominations to hand out.
The limited releases honored were just as stellar, including Sebastian Lelio's A Fantastic Woman, about a Chilean trans woman played by trans actress Daniela Vega, the steamy British romance drama God's Own Country that gives Brokeback Mountain's sex scene a run for its money, the vital French AIDS activism drama BPM, the dazzling Norwegian lesbian sci-fi drama Thelma, and South African film The Wound. If haven't seen any of the 10 film nominees, I strongly recommend seeking them out.
See the list of film and TV nominees below, and head to GLAAD's website for the full list including journalism nominations. The GLAAD Media Awards will be held in Los Angeles on April 12, and in New York on May 5.
OUTSTANDING FILM – WIDE RELEASE
Battle of the Sexes 
Call Me by Your Name
Lady Bird 
Professor Marston and the Wonder Women
The Shape of Water 
OUTSTANDING FILM – LIMITED RELEASE
BPM 
A Fantastic Woman
God's Own Country 
Thelma
The Wound
OUTSTANDING COMEDY SERIES
The Bold Type 
Brooklyn Nine-Nine 
Crazy Ex-Girlfriend 
Modern Family
One Day at a Time
One Mississippi 
Superstore 
Survivor's Remorse 
Transparent 
Will & Grace 
OUTSTANDING DRAMA SERIES
Billions 
Doubt 
The Handmaid's Tale 
Nashville 
Sense8 
Shadowhunters
Star 
Star Trek: Discovery 
This Is Us 
Wynonna Earp 
OUTSTANDING INDIVIDUAL EPISODE (in a series without a regular LGBTQ
character)
"Chapter 8"; Legion
"Grace"; Pure Genius 
"Lady Cha Cha"; Easy
"The Missionaries"; Room 104 
"Thanksgiving"; Master of None 
OUTSTANDING TV MOVIE OR LIMITED SERIES
American Horror Story: Cult 
Feud: Bette and Joan 
Godless 
Queers 
When We Rise 
OUTSTANDING KIDS & FAMILY PROGRAMMING
Andi Mack (Disney Channel)
"Chosen Family"; Danger & Eggs (Amazon)
"The Emergency Plan"; Doc McStuffins (Disney Channel)
The Loud House (Nickelodeon)
Steven Universe (Cartoon Network)
OUTSTANDING DOCUMENTARY
Chavela 
Gender Revolution: A Journey with Katie Couric
Kiki 
"Real Boy"; Independent Lens 
This is Everything: Gigi Gorgeous 
OUTSTANDING REALITY PROGRAM
Gaycation with Ellen Page 
I Am Jazz
RuPaul's Drag Race 
Survivor: Game Changers 
The Voice 
OUTSTANDING COMIC BOOK
America, written by Gabby Rivera (Marvel Comics)
The Backstagers, written by James Tynion IV (BOOM! Studios)
Batwoman, written by Marguerite Bennett, James Tynion IV (DC Comics)
Black Panther: World of Wakanda, written by Roxane Gay, Ta-Nehisi Coates, Yona
Harvey, Rembert Browne (Marvel Comics)
Deadman: Dark Mansion of Forbidden Love, written by Sarah Vaughn (DC Comics)
Goldie Vance, written by Hope Larson, Jackie Ball (BOOM! Studios)
Iceman, written by Sina Grace (Marvel Comics)
Lumberjanes, written by Kat Leyh, Shannon Watters (BOOM! Studios)
Quantum Teens are Go, written by Magdalene Visaggio (Black Mask Comics)
The Woods, written by James Tynion IV (BOOM! Studios)
OUTSTANDING DAILY DRAMA
The Bold and The Beautiful 
Days of Our Lives 
The Young & the Restless 
Gallery – LGBTQ Marvel & DC Comic Characters We Want in Movies: