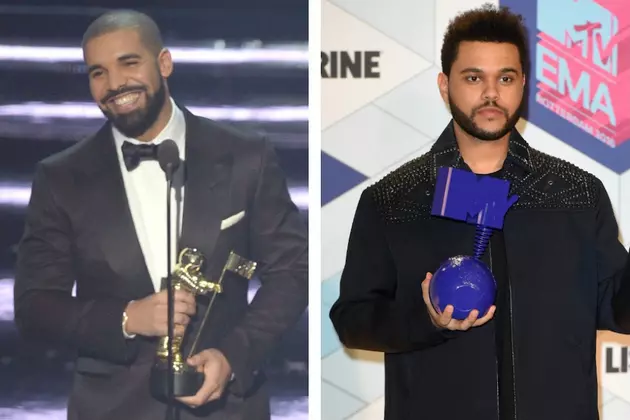 The Weeknd's 'House of Balloons' Is in Drake's Top Five Albums of All Time
Anthony Harvey / Jason Kempin, Getty Images
Once on stage, the nearly always gracious Drizzy proclaimed The Weeknd's seminal House of Balloons project to be one of his top five albums of all time. "My boy came and picked me up, he played me 'What You Need.' After that we met up at the studio and I heard House of Balloons, which is in my top five albums of all time," Drake said to a roaring London crowd.
He continued, "And since then, my brother has gone on to become the biggest ... and I want to let you know too, it's OVO/XO forever, it doesn't matter where we are." The Weeknd returned Drizzy's favor by calling the Views rapper the biggest star in the world. You can see their hip-hop bromance in the video below.
If you've ever been to a Drizzy concert, you know Drake is unfailingly reverential—maybe even a bit hyperbolic—when it comes to how he presents the artists he brings on stage. So with that in mind, it isn't too surprising that he'd give Weeknd all the props he could when he joined the stage at Abel's concert. With that said, it's hard to call his proclamation about The Weeknd's debut project "hyperbole," considering that project helped to shape modern R&B as we know it in the past couple years.
Drizzy and The Weeknd have made some classic music in the past, but as we said before, they haven't dropped any music together in quite a while. However, if Drizzy's Apple Music bio is any indication, that will change pretty soon on his forthcoming project More Life. 
40 Hip-Hop Albums Turning 20 in 2017