Liam Payne + Louis Tomlinson Hit Studio With Good Charlotte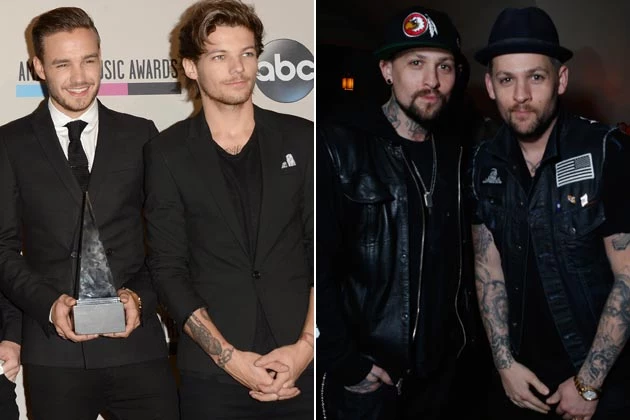 Last week, we reported that One Direction members Liam Payne and Louis Tomlinson are the biggest earners in the band due to their songwriting partnership. Then, news that Harry Styles was working on something massive with Kodaline broke, courtesy of tweet with a stick figure drawing.
Now, both LT and Benji Madden of Good Charlotte confirmed some studio hang time.
On Saturday, March 8, LT tweeted that good times were had with twins Benji and Joel Madden, the latter of which is married to Nicole Richie. The Bros. Madden are the heart and soul of the pop punk band.
Great working with the Good Charlotte boys today !!

— Louis Tomlinson (@Louis_Tomlinson) March 8, 2014
Benji, who once dated Paris Hilton, also tweeted his joy at hanging with the 1D boys. There were laughs and good music.
Good day today w/ @Louis_Tomlinson and @Real_Liam_Payne lotta laughs #1D #Directioners their new album is crazy. homies!! #Noice

— benji madden (@benjaminmadden) March 8, 2014
We're not sure what this session will yield, but hey, we love the fact that boys are branching out and ending up in the studio, flexing creative muscles with all different types of artists and musicians.

Source:
Liam Payne + Louis Tomlinson Hit Studio With Good Charlotte