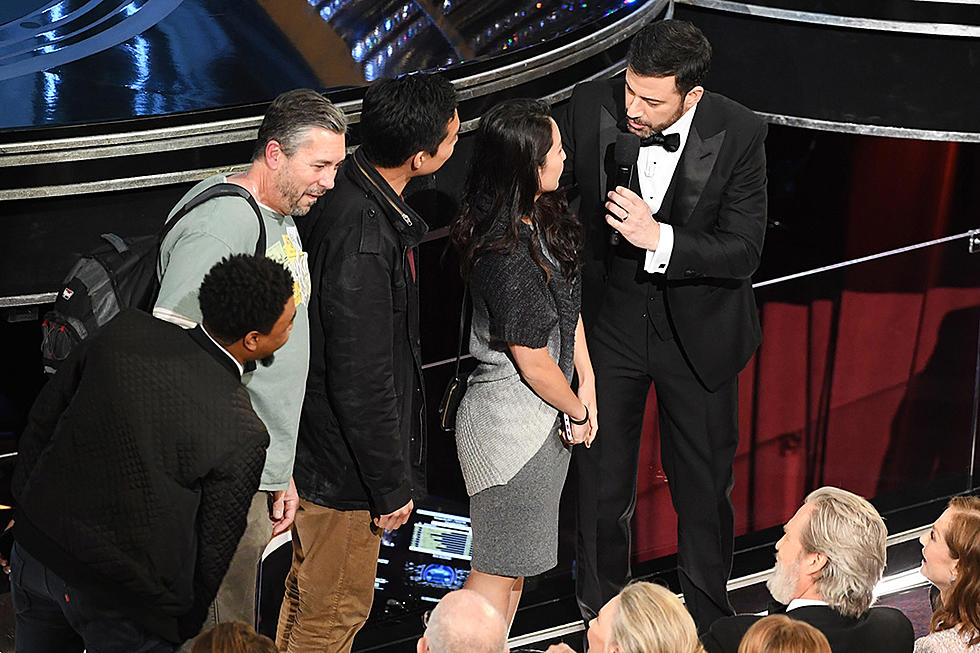 2017 Oscars Ratings Even Worse Than Last Year, For Several Reasons
Kevin Winter, Getty Images
The ratings for the 89th Annual Academy Awards are in, and they could've been better: The 2017 Oscars drew 32.9 million sets of eyeballs on February 26, according to ABC (via CNN). That means it managed to perform worse than the Chris Rock-hosted 2016 Oscars, which was watched by 34 million viewers, now making Sunday's broadcast the second-worst-rated Oscars in history since 2008.
Reports of the show's underperformance caused some vocal Donald Trump fans on Twitter to cling to the notion that ratings fell due to avoiding the many anti-Trump, anti-Muslim-ban sentiments voiced throughout the night by host Jimmy Kimmel and an array of presenters and award recipients — including a statement from Best Foreign Film winner Asghar Farhadi that was delivered by proxy, as the Iranian filmmaker boycotted the ceremony over Trump's immigration policies. And, solely in the specific case of Trump supporters, it may have been their reason for tuning out: As THR reported last week, a poll conducted by the National Research Group found that two-thirds of Trump supporters rush to turn their TV sets off when celebrities start to get political.
But the Oscars' poor performance in recent years is part of a larger pattern of falling awards show viewership in the age of streaming and social media. While the trend's not an across-the-board absolute, and there have certainly been variable-driven exceptions (the 2017 Grammys outperformed 2015 and 2016, not least buoyed by performances from Adele and Lady Gaga as well as the draw of seeing Beyonce perform while pregnant with twins), these ceremonies are bleeding viewers year over year: the VMAs struggled to hold interest in 2015 and 2016 and the 2016 Emmys (also hosted by Kimmel) hit an all-time ratings low, as did the 2016 American Music Awards. The sagging ratings of the 2015 Emmys even prompted me to wonder if anyone even watches awards shows anymore.
Pop culture fans are still experiencing awards shows, sure, but more through real-time tweets and quickly-disseminated videos of viral moments, such as the Oscar's massive Best Picture blunder in which the wrong movie was announced as the winner. And when the alternative is, say, to spend over three-and-a-half hours of your weekend watching a show that felt increasingly like a very expensive edition of Jimmy Kimmel Live episode replete with timeworn "Matt Damon is my nemesis!" bits, catching the highlights online does sound better.
Awards shows, to paraphrase a line from problematic Oscar winner Woody Allen's Annie Hall, are like both relationships and sharks: They have to constantly move forward or they'll die. And their producers need to start giving viewers better reasons (and ways) to keep watching them.
The 2017 Oscars' Best Dressed