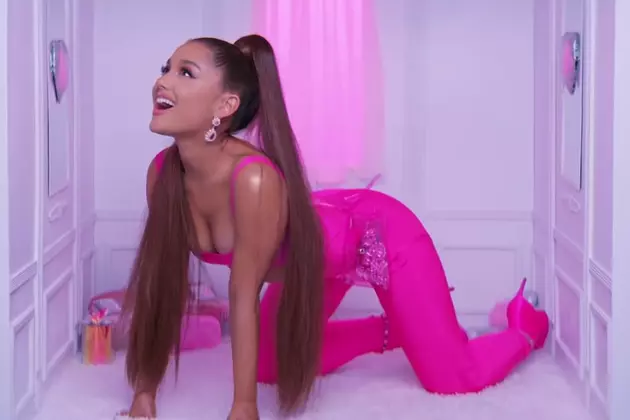 7 Surprising Tracks That Sample Songs From Musicals
Ariana Grande via YouTube
In the wake of Ariana Grande's new single "7 Rings" (which, by the way, is actually a rework of "My Favorite Things" from The Sound of Music), we've been thinking about all the other songs that were inspired by famous musicals.
Grande certainly isn't the first—and likely won't be the last—artist who has taken inspiration from the musicals we know and love. In fact, a few of our fave songs, like Gwen Stefani's 2004 hit "Rich Girl," were sampled from Broadway plays. There's even a song off of Beyoncé Lemonade album that was inspired by an iconic ballet!
Take a look at the list below to see what other songs sample famous musicals.
1

Ariana Grande's "7 Rings"

Ariana Grande's new song "7 Rings" samples the melody from The Sound of Music's "My Favorite Things." In the original, Julie Andrews's character, Mary, sings about her favorite things like "raindrops on roses and whiskers on kittens." In Grande's song, she raps about "girls with tattoos who like getting in trouble," using the melody but adding her own edgy little twist.

2

Gwen Stefani's "Rich Girl"

Gwen Stefani's 2004 mega hit "Rich Girl" was also sampled from a famous musical. It's actually a remake of Fiddler on the Roof's "If I Was a Rich Man." Clever, huh? She even reworked the original song's "Ya ha deedle deedle, bubba bubba deedle deedle dum" and turned it into her now-infamous tune, "Na, na, na, na, na, na, na, na, na, na, na, na."

3

For his 2003 song "Popular," which also features Ariana Grande, Mika sampled the tune "Popular Song" from the musical Wicked. The song was made famous by Broadway star Kristin Chenoweth, who later starred alongside Grande in the TV special A Very Wicked Halloween in 2018.

4

Beyoncé 2016 song "Sorry," from her Lemonade album, features a melody not quite from a musical but rather from an iconic ballet: Pyotr Ilyich Tchaikovsky's Swan Lake. The tune plays in the track's intro as Bey recites the lines, "Here lies the body of the love of my life, whose heart I broke, without a gun to my head. Here lies the mother of my children, both living and dead."

5

Gwen Stefani's "Wind It Up"

Gwen Stefani's 2006 hit "Wind It Up," from the album The Sweet Escape, is another song she samples from a musical. At the 19-second mark, you'll hear the yodeling from the song "Lonely Goatherd" in The Sound of Music.

6

Lukas Graham's "Mama Said"

If you ever wondered why Lukas Graham's 2015 hit "Mama Said" sounded super familiar, it's because he sampled the song "It's a Hard Knock Life" from the musical Annie.

7

Jay-Z's "Hard Knock Life"

Speaking of the little red-headed orphan, Jay-Z remixed Annie's "It's a Hard Knock Life" in 1998 and turned it into his very own anthem. In fact, it's still one his biggest hits to date, partially thanks to that familiar melody.