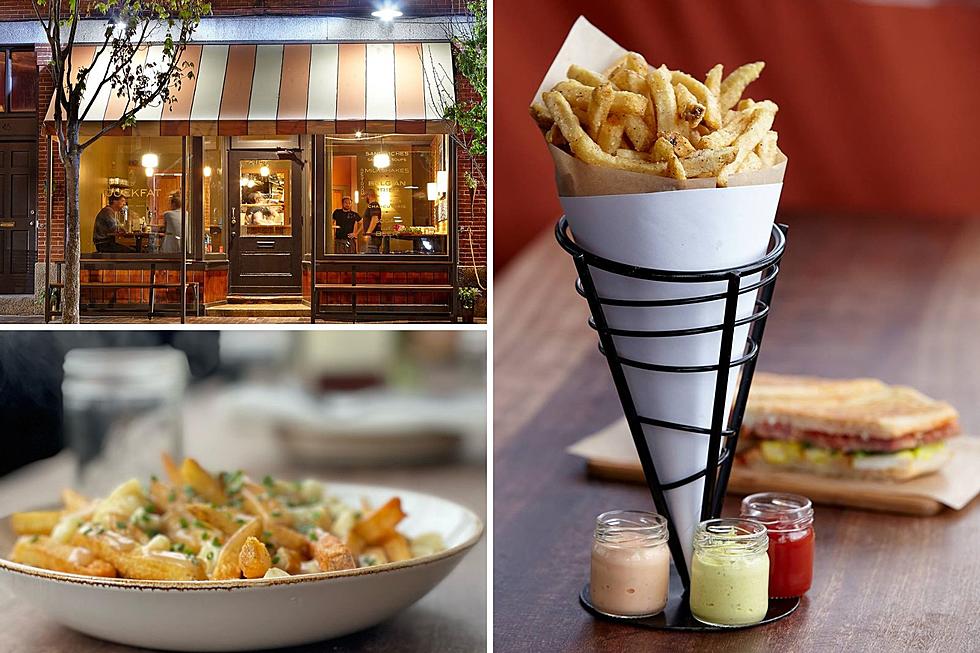 A Restaurant in Portland, Maine, is Receiving High Praise for French Fries
Duckfat via Facebook
An iconic upscale fry shack in Portland is getting some serious national praise.
The popular foodie website Tasting Table recently posted an article about the best places in the nation to get one of America's favorite snacks, the golden, salty, oily and delicious French fry.
On this prestigious list of golden goodies is one of Maine's favorite spots for sparkling spuds, Duckfat. The East End restaurant has been serving up their special "Belgian Fry" for nearly 20 years.
What makes it a "Belgian Fry?" It's in the way Duckfat prepares the potato. The spuds are hand-punched and then twice fried in duck fat to perfection. This leaves the fry extra crunchy and extremely succulent. It also always leaves the customer wanting more.
Here is a little of what Tasting Table had to say about Portland's favorite french fry.
The frites here are the signature dish...They're piled into paper cones and served with your choice of dipping sauce, like truffle ketchup, Thai chili mayo, horseradish mayo, and aïoli. To really kick things up a notch, Duckfat also serves poutine, where the frites are strewn with local cheese curds, duck gravy, and chives.
Ah, yes. Duckfat has even taken poutine to a whole new level. This is some of the best you will find south of Quebec. There are no shortcuts taken with these spuds.
Duckfat is joined by one other New England restaurant on the list, and that's the award-winning Puritan Backroom in Manchester, New Hampshire. The two are a wonderful representation of the food scene up here, especially when it comes to golden-friend deliciousness. You can find the entire list of top notch fry joints here. I'm warning you, though. Be prepared to have a craving.
20 Greater Portland, Maine, Restaurants That Have Been Featured on National Television Shows
Here's a list of 20 prominent Greater Portland, Maine restaurants that have been featured on national television shows. This is a great representation of the region's incredible food scene.
19 of Portland's Oldest Bars and Restaurants That Have Stood The Test of Time
Before Portland, Maine become a trendy foodie town, there were still dozens of incredible restaurants that laid the foundation for what the city is today. Many have closed over the years but a handful have stood the test of time and continue to thrive today.