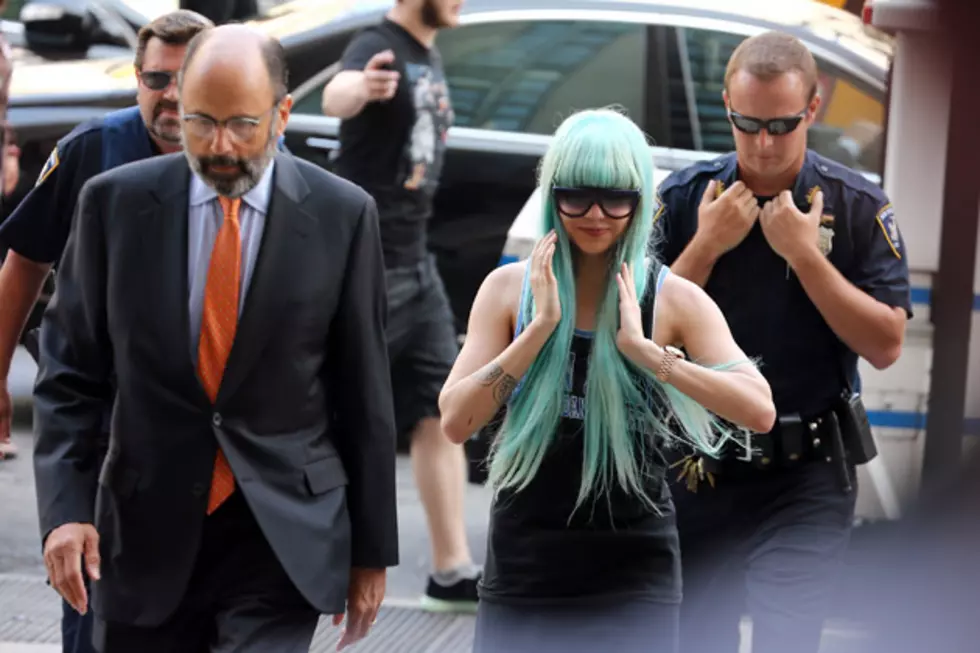 Amanda Bynes Wears Blue Wig to Bong-Tossing Court Hearing
Neilson Barnard, Getty Images
Amanda Bynes took a break from calling celebrities ugly on Twitter -- in case you missed it, her most recent victims were President Barack Obama and First Lady Michelle Obama -- in order to appear in Manhattan court this morning (July 9).
The hearing was related to her bong-tossing incident on May 23, 2013, which left the  actress with three criminal charges: reckless endangerment (for throwing a huge bong out of her 36th floor apartment window), tampering with evidence (for throwing the bong, DUH) and criminal possession of marijuana (self explanatory?). Even though E! reports that Bynes' hearing only lasted a few minutes, she really outdid herself in the wardrobe department for her court appearance.
In outrageously predictable Amanda Bynes fashion, the TV star turned train wreck wore a bright blue wig during her appearance in front of the judge. To top off her Lady Gaga-esque hairdo, which also boasted bangs and some blonde strands, Bynes also wore huge sunglasses over her totally done up face, as well as black sweatpants, a jersey-like tank top and sneakers. So classy, that Amanda Bynes...
Check out more pics of her baffling courtroom ensemble below. If anything, it'd at least help her get off with an insanity plea.
Bynes' next hearing is set for Sept. 26... Here's hoping she shows up in Nicki Minaj's 2012 VMA wig when that day rolls around.