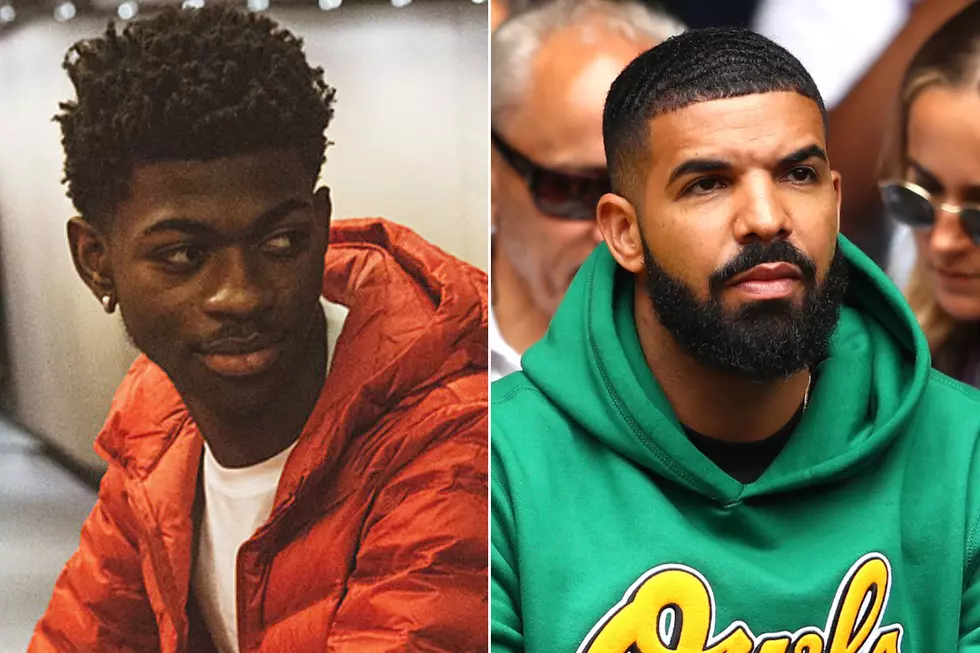 Lil Nas X's "Old Town Road" Breaks Drake's Record for Biggest U.S. Streaming Week Ever
Eric Lagg / Micheal Steele , Getty Images
On Monday (April 15), the folks at the publication reported their latest Billboard Hot 100 updates, and while doing so, they revealed that Lil Nas X, who retained his No. 1 spot from last week, broke Drake's record for most U.S. streams in one week. Drizzy previously held that record after his Scorpion single, "In My Feelings," earned 116.2 million streams for the week ending in July 28, 2018.
According to Billboard, "Old Town Road," which they now classify as being the same song as the Billy Ray Cyrus-assisted remix, broke the all-time U.S. single-week audio streaming record by earning 143 million streams for the week ending in April 20.
Before Billboard made the official announcement about the viral hit, Lil Nas X celebrated the W with a simple IG post with a screenshot of Chart Data's prediction for the song. "Legendary," he wrote in the caption.
Last week, Billboard reported that "Old Town Road" is the latest No. 1 song on their Hot 100 chart. The publication confirms that Lil Nas X is the first artist since Cardi B to hit No. 1 on the chart with their first song to enter the list. The rare feat comes just a little over two weeks after hip-hop came Lil Nas X's defense when Billboard removed his song from the Hot Country Songs after deeming it "not country enough" to be on said chart.
"Wow, Discrimination At It's Finest," Ski Mask The Slump God tweeted. "This Didn't Come From Me But If My Song Was Taken Off Of A Platform Because They Decided It Doesn't Live Up To The Genre Enough For Them I'm suing."
At the time of the report about the song being removed from the Hot Country Songs chart, Billboard emphasized that the song's removal was not race related. Clearly, it hasn't stopped Lil Nas X from obliterating more streaming and chart records.
Elsewhere in the Billboard Hot 100 chart's top 10, you can find Post Malone ("Wow," with Swae Lee No. 2, "Wow," No. 4), Cardi B ("Please Me" with Bruno Mars No. 6) and J. Cole ("Middle Child," No. 10). Blueface sits at No. 13, with his breakout single "Thotiana" still keeping his name abuzz. Outside the top 10, Megan Thee Stallion holds down the No. 99 spot with "Big Ole Freak." The song is her first Hot 100 entry.
Check out Lil Nas X's celebratory post below.
See Photos of Drake's Different Looks Over the Years