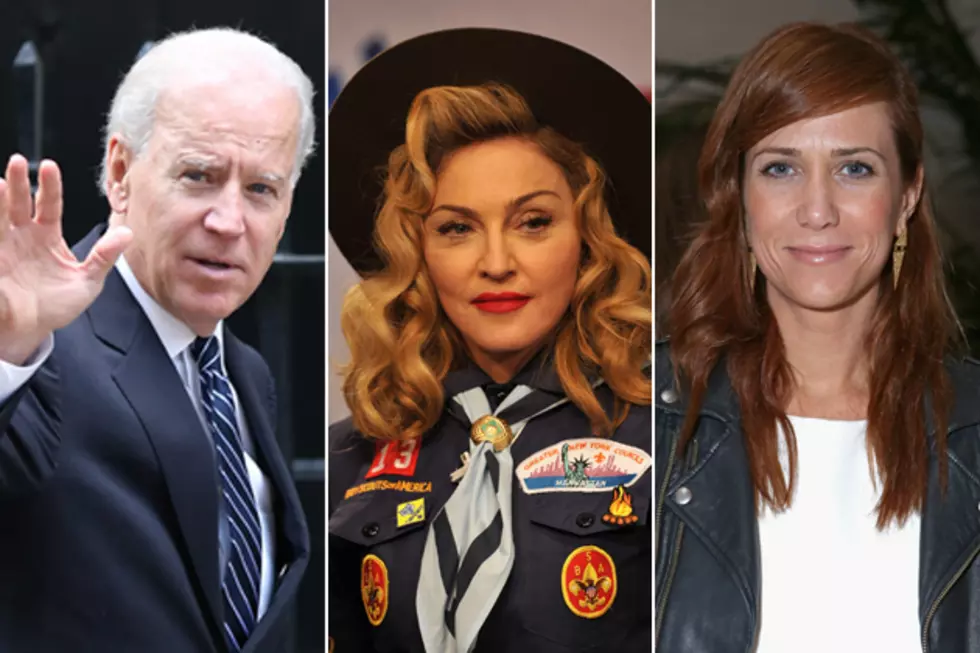 March Madness: Famous Attendees of the Schools in the Sweet 16
Peter Macdiarmid / Larry Busacca / Alexandra Wyman, Getty Images
The Sweet Sixteen of the NCAA Tournament is set, and you'll find some familiar names of basketball powerhouses in the mix. But also among them are some schools you may not know much about, if you've heard of them at all. To help you get up to speed, we put together a list of famous attendees of each college left in the tournament -- which could help you win some bar bets. (You can thank us for all the free drinks later.)
1

In addition to the numerous professional athletes and senators who have come out of Louisville, the school is the alma mater for journalist Diane Sawyer, actress Maggie Lawson, and author Sue Grafton. But the coolest alumnus may well be Frank Neuhauser, who won the first National Spelling Bee in 1925.

2

Although the school may not have produced any A-listers, Oregon does boast quite an array of talent in its past student body. Entertainers include Ty Burrell, Kaitlin Olson, and Jeff Whitty. The 'Today' show former anchor Ann Curry also went there, as did authors Ken Kesey and Chuck Palahniuk.

3

James Caan, Tom Sizemore, Sam Raimi, Anthony Heald and Chris Hansen all went to Michigan State. But since this whole list honors the NCAA Sweet 16, we'd be remiss if we didn't also mention Earvin "Magic" Johnson. Who, as you may have heard, knows a thing or two about basketball.

4

This school may be known more for its academics than anything else, but that doesn't mean Blue Devils can't do other things, too. Kara Dioguardi, Ken Jeong, and Jared Harris all called Duke home. And frat dudes know that author Tucker Max honed his pickup skills on campus there.

5

This Kansas school has an impressive list of alumni, including the brothers who founded Pizza Hut. Many of the others who darkened its halls were known for their athletic work -- including legendary football coach Bill Parcells.

6

The late Peter Boyle heads up this short list of famous La Salle attendees, and Tom Curley, president and CEO of the Associated Press, is a standout as well. Come tournament time, CBS announcer Bill Raftery might show his true colors: He also attended La Salle.

7

This is arguably the most impressive and longest list of any college still alive in the tournament: Jerry Bruckheimer, Denise Austin, Kourtney Kardashian, Greg Kinnear, Don Knotts, Craig T. Nelson, Nicole Richie, Caroline Rhea, Linda Ronstadt, Geraldo Rivera, Garry Shandling, and Kristen Wiig all have Arizona in common. Oh, and don't forget Viagra spokesperson (and former senator) Bob Dole.

8

One of college basketball's greatest coaches, Bobby Knight, went to Ohio State, and so did Yankees' owner George Steinbrenner. Outside of sports, the school has an equally impressive entertainment roster: Patricia Heaton, Richard Lewis, Dwight Yoakam, Bruce Vilanch, and R.L. Stine.

9

Wilt Chamberlain and Bob Dole (who got his law degree at Kansas) are the two most famous Jayhawks, but the college has seen other notable people over the years. Entertainers who've attended the school include Paul Rudd, Scott Bakula, Don Johnson, Rob Riggle, and Mandy Patinkin.

10

This Big Ten school has an amazing array of former attendees, topped by James Earl Jones, Christine Lahti, Lucy Liu, Madonna, Iggy Pop, and Gilda Radner. Google co-founder Larry Page was also a Wolverine, as was Olympic swimmer Michael Phelps. But most powerful person to come out of the school? That would be President Gerald Ford.

11

Bob Vila was a Gator before he was a well-known fix-it man. Faye Dunaway, Darrell Hammond, Erin Andrews, Stephen Root and MSNBC's Joe Scarborough also prove that this Southern school isn't just Tebow all the time.

12

This year's Cinderella team, a No. 15 seed, has people noticing it for likely the first time. Famous former students are a bit hard to come by, with Chicago White Sox ace Chris Sale at the top of the list, followed by Florida House of Representatives member Matt Caldwell. Outside of local politicians and lesser-known athletes, though, the school hasn't produced many notable alumni. Maybe 2013's NCAA run will help put it on the map.

13

Famous Hoosiers range from Joshua Bell to Kevin Kline to Ryan Murphy. Former VP Dan Quayle is another prominent one (but Indiana alumni might want to forget him). On the other side of the coin sits NY Times Crossword editor Will Shortz, who has brought great pride to Indiana -- one clue at a time.

14

Vice President Joe Biden once wore the famous orange, as did renowned author Joyce Carol Oates. And while Syracuse is well known for its athletics, its arts, media, and entertainment programs are also revered, having had a hand in training celebs like Jerry Stiller, Vanessa Williams, Frank Langella, Taye Diggs, Aaron Sorkin, and Ted Koppel.

15

The most famous (or infamous, as it were) alumnus is probably Senator Joseph McCarthy. But the former students you might want to talk more about are Chris Farley, Gail Collins, Don Ameche, and question-mark adorned Matthew Lesko. And how did Danny Pudi prepare for his role on 'Community'? That's right -- by attending Marquette.

16

Tons of famous names once attended "The U," topped by Dwayne "The Rock" Johnson, Ray Liotta, and Sylvester Stallone, not to mention musicians like Gloria Estefan, Bruce Hornsby and Enrique Iglesias. Oh, and if you're looking for a mate? Famous matchmaker and Miami grad Patti Stanger has you covered.