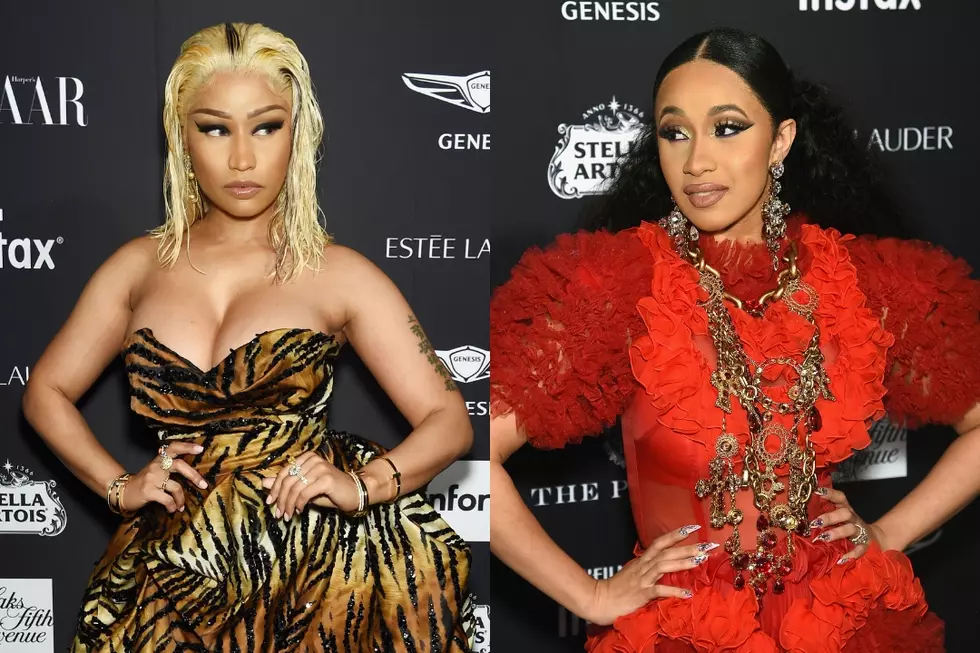 New Nicki Minaj Merch Mocks Cardi B's Fashion Week Attack
Dimitrios Kambouris, Getty Images
The Queen rapper revealed Thursday (October 4) that she's got a brand new collection of merch that includes the tagline "Nicki Stopped My Bag" — so far, items include backpacks, shirts and jackets (you can see it all here).
The quote, of course, comes from Cardi's accusations against Nicki, which included claims that Nicki spoke poorly of Cardi's newborn child and ultimately hurt her profit margin. "I've let a lot of s— slide! I let you sneak diss me, I let you lie on me, I let you attempt to stop my bags, f— the way I eat!" Cardi wrote. "But when you mention my child, you choose to like comments about me as a mother, make comments about my abilities to take care of my daughter is when all bets are f—– off!!"
"I was in a Gaultier gown— off the motherf------ runway— and I could not believe how humiliated we all felt," she said. "I just want people to know that Onika Tanya Maraj has never, will never… speak ill on anyone's child. I am not a clown. That's clown s---."
"You knew that when that footage came out, you were about to look dumb," the "Chun-Li" rapper added. "So your team, they hurry up and put out a statement. I didn't stop anyone's bags. She had to say that because she has built her career of sympathy and payola."
50 Shade of Celebrity Feuds