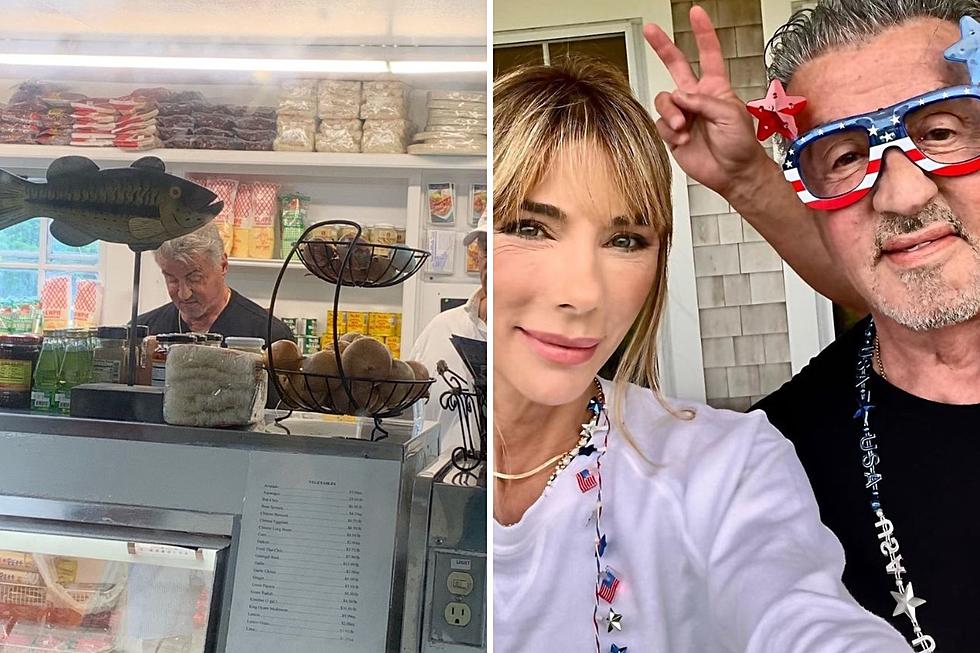 'Rocky' Legend Sylvester Stallone Spotted Spending His Birthday in Massachusetts on Nantucket
Nantucket Seafoods/Official Sly Stallone via Instagram
Well, how about that?  The quaint, quintessential island of Nantucket, 30 miles off of Cape Cod, is where Oscar winner Sylvester Stallone decided to spend his 77th birthday.  It was mainly over the 4th of July holiday weekend when he was spotted out and about, and he wasn't shy at all about posing with fans.  I love when actors don't mind a few photo ops, while also hoping that fans respect the rest and relaxation they're searching for.  Nantucket is definitely the spot for that kind of off-the-beaten-path holiday (and in this case, birthday celebration) where Stallone posted this fun video.
Sylvester also posted this festive photo with his beautiful wife of more than 25 years, Jennifer Flavin.
One sighting that emerged was at Nantucket Seafoods, according to Boston.com, where the Hollywood legend known best for playing boxer Rocky Balboa in the Rocky film franchise was grabbing some swordfish, steamers, and key lime pie.
What a perfect, idyllic, out-of-the-limelight place to spend a birthday. Stallone was taking a break from his latest project called The Family Stallon, a reality series with his family on Paramount Plus.  That's enough to make me want to subscribe to Paramount Plus for a bit.  Meanwhile, according to Boston.com, he has a Netflix documentary coming out this November following his inspirational Hollywood career.  Oh, and I can't wait for that.
Okay, back to more spottings on Nantucket where a birthday vacation lunch was in order at the Nantucket Tap Room.
I even saw that rock legend Sammy Hagar posted a comment to Sly, saying "A happy fourth freedom day to you my friend. PS Let me know when you want to arm wrestle again."
The Worst Superhero Movie Costumes
Superhero movies costumes have gotten incredible sophisticated in recent years. But they weren't always that way — and even today, there are still some costumes that don't quite work out.
The Best Movies of 2023 So Far
Through the first half of the year, here are the movies you have to see.