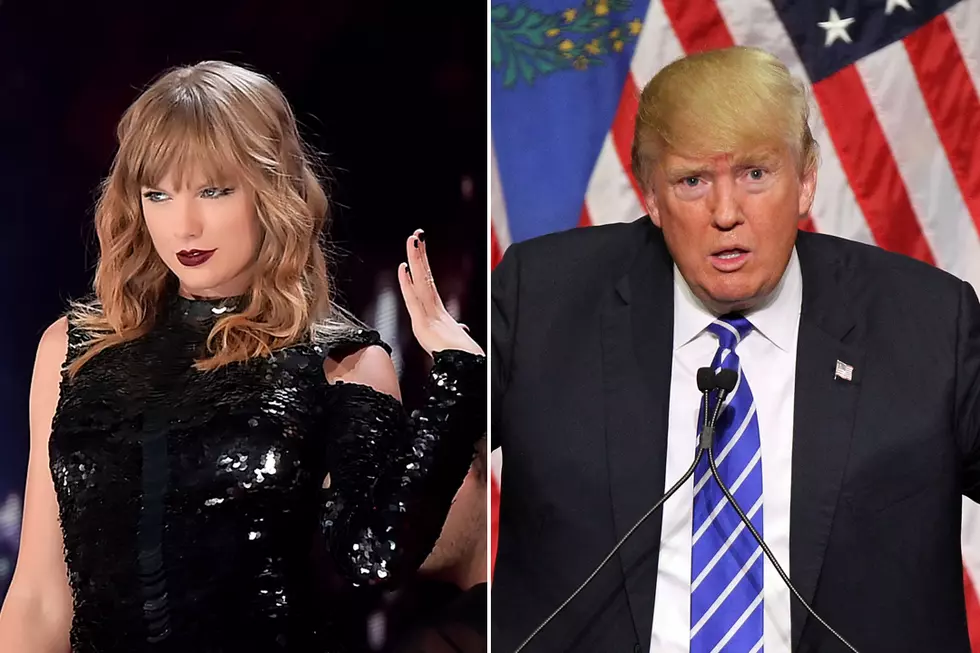 Taylor Swift Speaks Out About President Trump: 'He Thinks This Is an Autocracy'
Kevin Winter / Isaac Brekken, Getty Images
Taylor Swift is speaking out about President Trump in a new interview, saying that he believes himself to have unlimited power in a country that's supposed to function democratically.
Talking to the Guardian, the country-turned-pop superstar says the current mood in America is one of "gaslighting the American public into being like, 'If you hate the president, you hate America.'"
Trump frequently turns to social media to attack those who criticize him or his policies, and he often frames the narrative as being with him or against America.
"We're a democracy – at least, we're supposed to be – where you're allowed to disagree, dissent, debate," Swift states. "I really think that he thinks this is an autocracy."
Swift has just released her seventh studio album, Lover, and several songs address social issues. One song titled "Miss Americana & the Heartbreak Prince" contains some lines that could be construed to reference Trump's presidency:
"My team is losing, battered and bruising / I see the high fives between the bad guys / Leave with my head hung, you are the only one who seems to care / American stories burning before me / I'm feeling helpless, the damsels are depressed / Boys will be boys then where are the wise men / Darling, I'm scared."
Country Music's Most Political Artists:
Though she does not name Trump in the song, the Guardian's review of Lover says "Miss Americana & the Heartbreak Prince" reflects the "abandon-ship despair engendered by Trump's America." "You Need to Calm Down" is another new song that is said to take aim at the president.
Swift avoided sharing her political stances in public for most of her career, but she's become vocal about her progressive positions since Trump took office, supporting a slate of Democratic efforts and opposing several Republican candidates and ballot initiatives during the 2018 midterm elections. She tells the Guardian that the negative press she was getting due to an ongoing public feud with Kanye West and Kim Kardashian colored her decision not to weigh in on the 2016 election, confirming that she would have otherwise endorsed Hillary Clinton. Swift says she's "really remorseful for not saying anything" in retrospect, and with all that's on the line in the next election cycle, she says she'll "do everything I can for 2020."
Swift's remarks may well earn a public censure from Trump himself. The former real estate mogul and reality TV star took a shot at her in October of 2018, after she endorsed Democrat Phil Bredesen in Tennessee's race for U.S. Senate over his Republican opponent, Marsha Blackburn.
"Let's say that I like Taylor's music about 25 percent less now, OK?" Trump told CNN. Swift's newfound political activism also drew the ire of rapper, sometime country singer and avid Trump supporter Kid Rock, who attacked the singer in a vulgar tweet on Aug. 9.
"Taylor Swift wants to be a democrat because she wants to be in movies ... period," he wrote. "And it looks like she will suck the door knob off Hollyweird to get there. Oldest move in the book. Good luck girl."
See Country Music's Nastiest Feuds