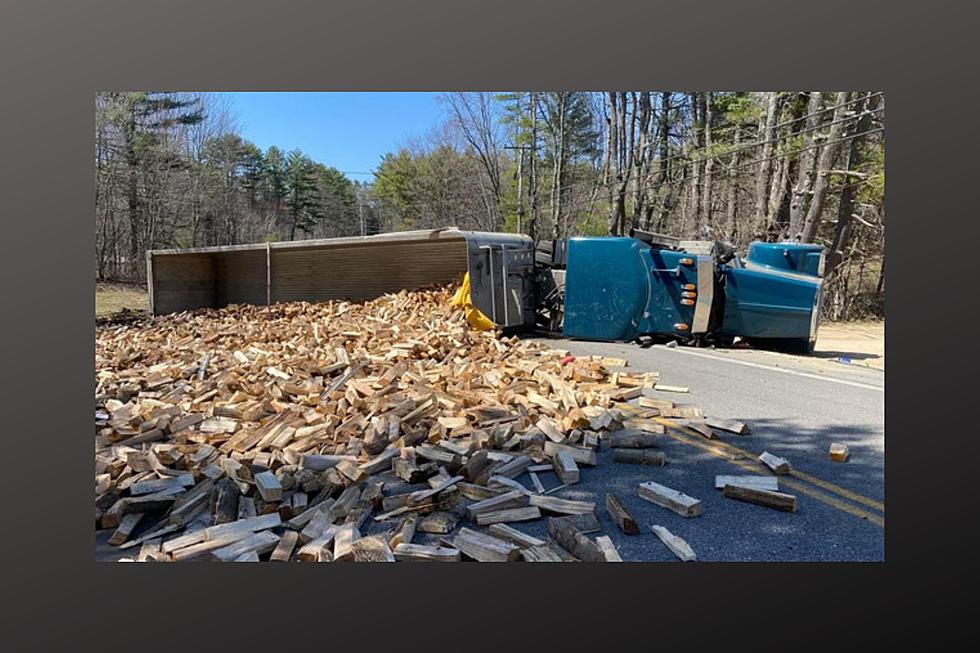 Tractor Trailer Hits Guard Rail in Maine, Tips Over & Spills Apparent Firewood in Roadway
Maine Department of Public Safety, State Police
It was quite a scene (and a cleanup effort) in one small Maine town on Thursday afternoon.
According to WGME 13, a tractor-trailer truck that was traveling down route 25 in the small town of Limington hit a guard rail, causing the driver to lose control of the large truck.
The loss of control inevitably led to the vehicle rolling over onto its side in the middle of the road, the news station reported.
What's more, the truck was hauling a load of apparent firewood at the time of the crash, causing the wood to spill all over the Maine road.
There was no immediate report available on if the driver of the truck was injured in the crash.
Police that were investigating on the scene believe it's likely that the driver was distracted before the crash, according to the news station though they haven't specified what exactly the driver may have been distracted by.
According to News Center Maine, the Maine Bureau of Highway Safety reported that "distracted driving results in more than 3,446 crashes, more than 535 injuries, and approximately 45 deaths" in Maine every year.
In February, the Portland Press Herald reported that the Maine Legislature was going to consider bigger fines for distracted driving. Time will tell if that becomes a reality in the state for drivers.
This is a developing story and we will continue to keep it updated as more information becomes available to us.
50 Largest Private Employers in Maine
Below is a list of the 50 largest private employers in Maine. Some are locally owned, while others are national brands. These are provided by the
Maine Department of Labor
. The numbers are from 2022's 3rd quarter. They are the most recent available.