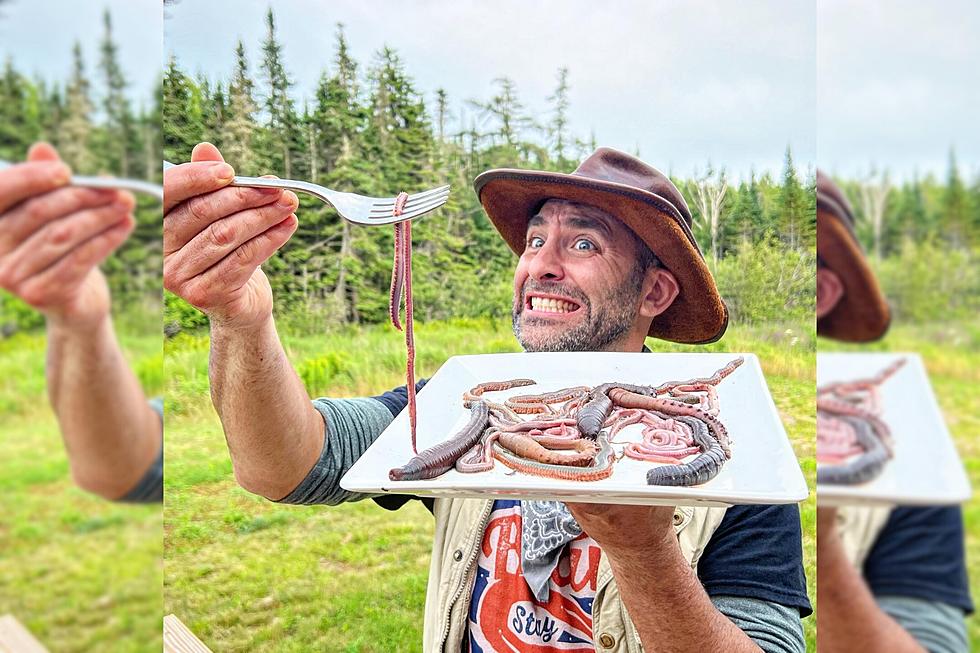 2 Travel Show Hosts Team Up to Find These 3 Bizarre Marine Worms in Maine
Coyote Peter via Facebook
Have you ever made a dirt and worms birthday cake for your child?  You know, the dirt is crushed Oreos and the worms are the packaged gummy worms from the local market.  It's a gooey mess, yet so good and eye-catching.
Well, worms are fun, and according to two travel show hosts, worms can have a whopping bite.
Coyote Peterson of The Brave Wilderness Channel and Pat Spain of Travel Channel teamed up to find three varieties of marine worms in the most remote shores of Maine.
Peterson credits Spain with the inspiration to get in front of a camera.  Spain has hosted, Beast Hunter on National Geographic Channel, and the new series Legend Hunter on Travel Channel, both of which pushed Peterson to dream big, according to his Facebook post. In fact, Peterson says he was thrilled to share the screen with "one of the all-time masters of the craft".
Pat Spain, according to Travel Channel, "is a wildlife biologist, cryptozoologist, biotech expert, author and cancer survivor with a passion for adventure. As a cutting-edge scientist and explorer, he has traveled to some of the most remote locations on earth, looking for the truth behind amazing stories".  He lives in Boston with his family.
Coyote Peterson is an animal expert, adventurer, and conservationist. Find videos at  Brave Wilderness - YouTube.
So for fun and adventure, Coyote and Pat went to Maine in search of the blood worm, the clam worm, and the giant sand worm.  They didn't just go to find these worms; their adventure was to test the bites of these creatures.
That's right, they let these three different worms bite them.  What were the results? We will have to wait and see when the episode airs later this year on the Brave Wilderness Channel, but one of these suckers has to hurt, let alone three of them.
New Hampshire and Maine Goodwill Stores Do Not Accept These 21 Items
Can you donate it? Check this list before you bring it to your local Goodwill Store.
15 of the Best Places for Mozzarella Sticks in Maine