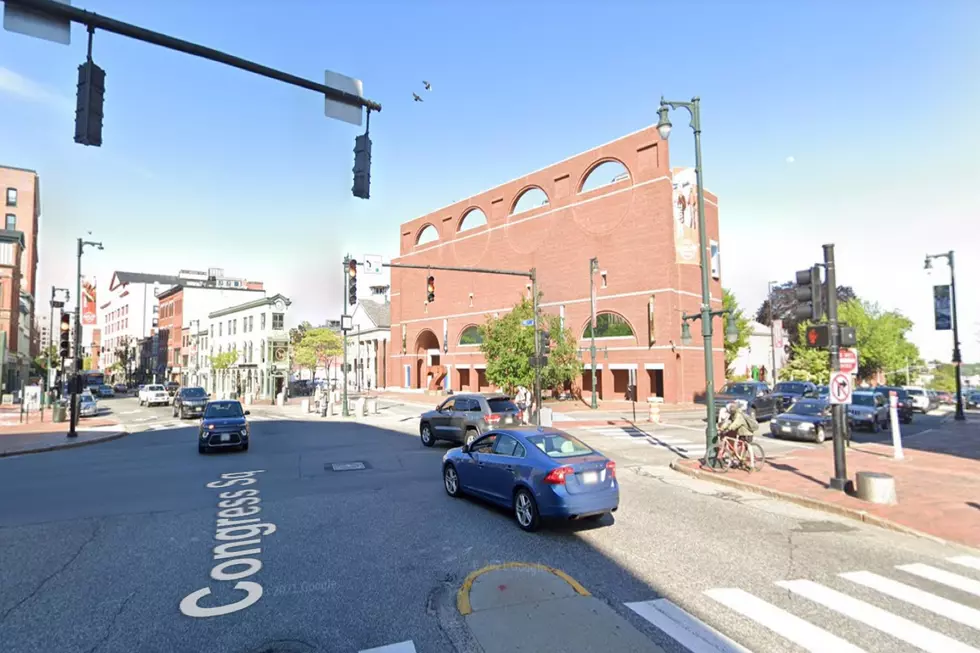 10 Intersections in Portland, Maine, That Will Literally Drive You Insane
Google Maps
We've all been there, stuck at an intersection in heavy traffic watching the light turn green only to not move a single inch. For the most part, Portland is a city you can get from point A to point B pretty easily. However, there are a few intersections within the city limits where you could easily find your inner road rage. Here's the list of eight that we've come up with...
---
CONGRESS ST/HIGH ST/FREE ST 
There's a lot going on at the intersection of Congress/High/Free. Congress St. is already a traffic-riddled road on its own. Add in the potential at this corner of a gathering at the State Theater or a First Friday Art Walk, and this intersection filled with beautiful lights and a lively park can transform into the gates of Hell. On top of it all, the City of Portland undertook a construction project that will alter this intersection to be safer for pedestrians. The project has been moving slower than a sleeping turtle, making this intersection the most frustrating in Portland right now.
---
CONGRESS ST/ST JOHN ST        
This is probably Portland's #1 spot where people are in the wrong lane to take whatever action they're aiming for. This is another intersection that has seem some changes in recent years, but still remains frustrating thanks to unaware drivers who are not readily familiar with the turning lanes or what a green light means versus a green arrow.
---
BRIGHTON AVE/STEVENS AVE         
Depending on the time of the year, this particular intersection can be a living nightmare if you don't possess a vehicle with four-wheel drive. And even if you do, you get to sit in your car and watch as someone struggles to get up the slick hill on Brighton, spinning their wheels in their Ford Taurus from the '90s. Oh, and while they're spinning their tires, the light has gone from green to red four times, and now you're ten minutes late to work.
---
FOREST AVE/ALLEN AVE/STEVENS AVE AKA MORRILL'S CORNER 
The intersection at Morrill's corner is so frustrating on a daily basis that you might begin to consider living off the grid just for the inner peace. This consistently infuriating intersection features too many lanes, too many signals, and far too much merging for the average, ordinary driver to understand. Someday, the City of Portland should eminent domain the brick building that stands at the end of Stevens Ave and connect Stevens with Allen Ave to create one large intersection. It would do wonders for traffic flow, as well as sanity.
---
FRANKLIN ST/MARGINAL WAY   
Currently under siege by one of Portland's roughly 8,000 ongoing construction projects, the intersection that brings Franklin St, Marginal Way and the offramp of I-295 together is a living nightmare for many people on a daily basis. When the construction is complete, the major issue that haunts this intersection still will not be solved. How to avoid those exiting I-295N from clogging up the intersection for those exiting from I-295S? Good luck figuring that one out.
---
FOREST AVE/MARGINAL WAY/HIGH ST/STATE ST      
There's so many potential issues that can go wrong with this intersection, and there's not enough time to list them all. This is the largest collision of key arteries in Portland, and the melding of those arteries is not artfully done. It features a pair of two-lane, one-way streets and an awkward three-lane stoplight that leaves many motorists confused. Add in pedestrian traffic, and this intersection is the ultimate recipe for disaster.
---
WASHINGTON AVE/ALLEN AVE      
Truthfully, there isn't one particular intersection along Washington Ave that stands out as the worst of the bunch, as they all have their various pitfalls. This particular intersection suffers from the inability of drivers to make a dual left turn. Add a busy Dunkin' and Amato's to any intersection, and you're likely to find some drivers finding new, inventive ways to potentially cause accidents.
---
FOREST AVE/WOODFORD ST      
At one point in time, this intersection may have been in the running for the worst in all of Portland. After a lengthy project that helped widen the intersection and remove some of the clogging traffic, it's gotten better. Unfortunately, there's still a ton of driver error through this intersection, leading to some messy merging and a lot of horn honking.
---
YORK ST/HIGH ST
Directly off the Million Dollar bridge from South Portland, drivers are welcomed by the mess that is the intersection at York and High Street. Several issues plague this intersection. The first problem is people turning right before the intersection onto Park St. During the busiest times, that can back up and bleed onto York St. The second issue is the dual left hand turning lanes, which people continually struggle with.
---
COLUMBIA RD/WOODFORD ST/BRIGHTON AVE
Portland managed to eliminate another five-way nightmare intersection near the University of Southern Maine by installing a roundabout, and it feels like it's only a matter of time until this intersection receives the same treatment. Brighton Ave remains a major artery for Portland, and a busy gas station and nearby residential neighborhoods can lead to some headaches here.
---
The 10 Safest Places in Maine to Live Right Now
Breaking down stats relating to violent and property crime, here are the 10 places in Maine that are the safest to call home right now
according to SafeWise.com
.
LOOK: This is where homes are selling the fastest right now
Stacker
compiled a list of the metros where houses are selling the fastest, according to data from Redfin.