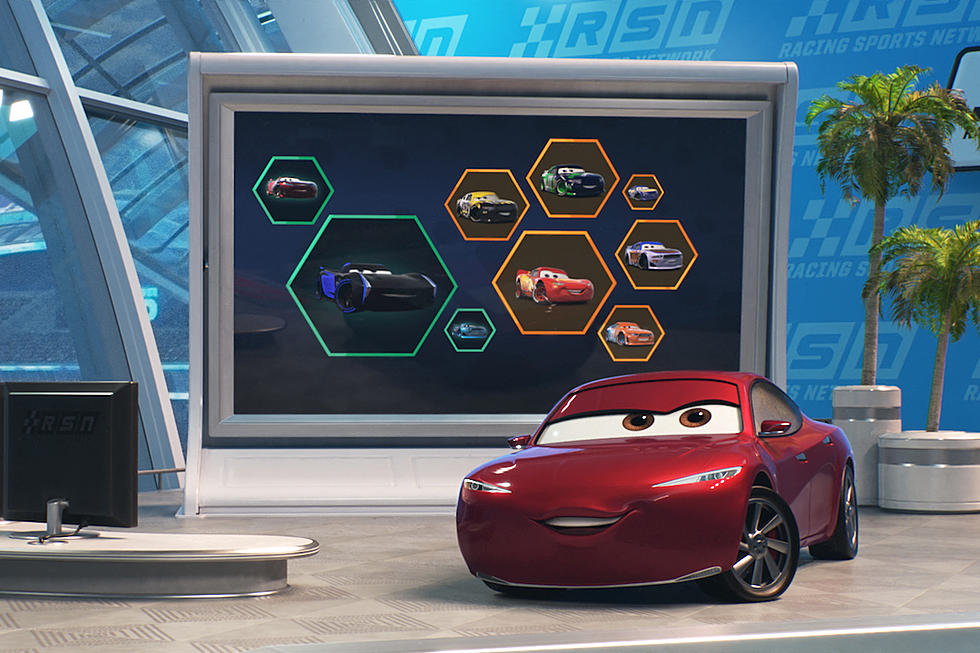 'Cars 3' Adds Kerry Washington, Nathan Fillion, and Lea DeLaria With New Character Photos
Pixar
Cars 3 is a thing I keep forgetting is happening. It isn't exactly a Pixar sequel people are dying to see – does anyone who's not an eight-year-old actually love the Cars movies? Either way, the new film is still on the way and today Disney has announced three new voice actors joining the cast with new character photos.
Kerry Washington, Nathan Fillion, and Orange is the New Black star and comedian Lea DeLaria are the latest additions to the cast. Washington will voice Natalie Certain, described as a "book-smart and mathematically gifted" statistical analyst who examines racer stats. Fillion will voice Sterling, a businesscar who runs the training center Rust-eze Racing Center who's described as "dapper" and "laid back." And lastly, the OITNB actress will be the voice behind Miss Fritter, a banged-up school bus covered in graffiti and decorated with the license plates of her "victims." In what sounds like a case of typecasting to anyone familiar with DeLaria's Boo, her character is intimidating and a demolition derby legend.
Earlier this year Pixar dropped a trailer for the upcoming sequel, which finds Lightning McQueen (Owen Wilson) struggling to get his groove back as a new generation of racers enter the sport. Armie Hammer will voice the villainous Jackson Storm, Lightning's latest competitor, and Cristela Alonzo will voice the famous race car's new coach, Cruz Ramirez. Formula One racer Lewis Hamilton will also join the cast to voice Hamilton, "a fully loaded, built-in voice command assistant" who helps Lightning during his race. The full synopsis:
Blindsided by a new generation of blazing-fast racers, the legendary Lightning McQueen (voice of Owen Wilson) is suddenly pushed out of the sport he loves. To get back in the game, he will need the help of an eager young race technician, Cruz Ramirez (voice of Cristela Alonzo), with her own plan to win, plus inspiration from the late Fabulous Hudson Hornet and a few unexpected turns. Proving that #95 isn't through yet will test the heart of a champion on Piston Cup Racing's biggest stage!
Cars 3 hits theaters June 16, 2017.