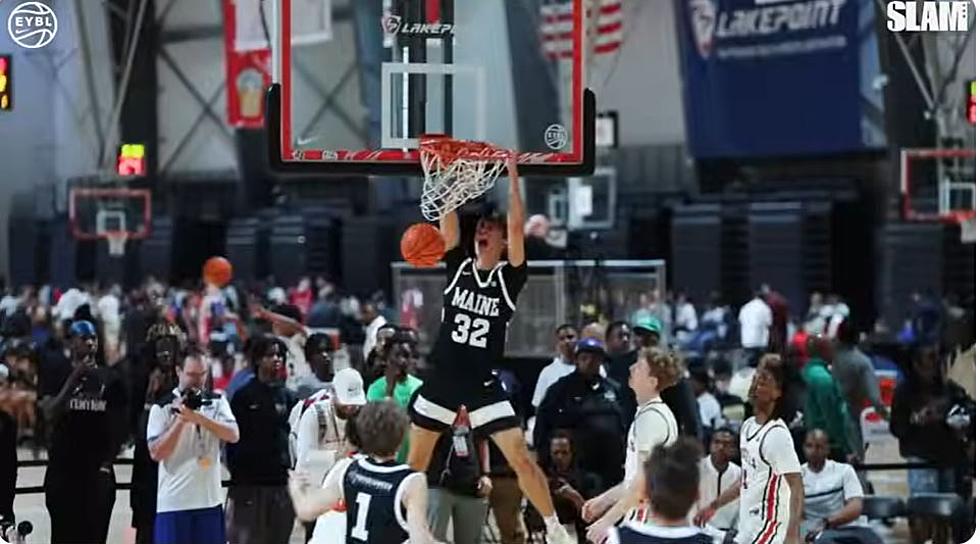 How to Watch Basketball Superstar Cooper Flagg When He Comes to Maine
Slam High School YouTube
Experts say Maine's Cooper Flagg could be the next LeBron, and they aren't exaggerating.
Cooper Flagg has had a steady spotlight on him since his freshman year at Nokomis Regional High School in Newport, Maine. This school in tiny rural Maine won a state championship. The spotlight has only gotten brighter as Flagg decides between Duke or UConn for college. Both are courting him and offer amazing opportunities. According to The Messanger,
Most NBA mock drafts have him pegged as the top pick in the 2025 draft. His journey from obscurity to national prominence happened in a flash, but now this incandescent, spindly, mop-haired teenager has the basketball world spinning on his finger.

 
His mom Kelly Flagg played basketball at UMaine, his dad played, and his twin brother Ace also plays. They are both currently playing for Montverde Academy in Florida.
How can I see Cooper and Ace Flagg play basketball in Maine?
This is when they were in the 8th grade! They were dominating then!  Experts say he will be the number one NBA draft pick in 2025! WMTW reports that both brothers will be in Portland with the Montverde Academy basketball team on January 5 and 6. On Friday, January 5, they will take on South Shore from Brooklyn, New York, at 7:30 p.m. at the Cross Insurance Arena in Portland.
The next day on Saturday, January 6, they will play against CATS Academy of Boston at the Portland Expo. We don't know the tip-off time for that game yet. In the dead of winter, it appears there will be a mini-heat wave in Portland!
17 Maine Restaurants Visited by Vacationing Celebrities
Many celebrities visit Maine and get the chance to eat at the numerous great restaurants the state has to offer. Have you had a chance to visit the local places below that these 18 celebrities have dined at?
The 10 Weirdest TV Shows Based on Beloved Movies
A RoboCop animated kids' show? A TV sequel to The Crow? These oddball TV spinoffs based on famous movies prove anything is franchise-able.