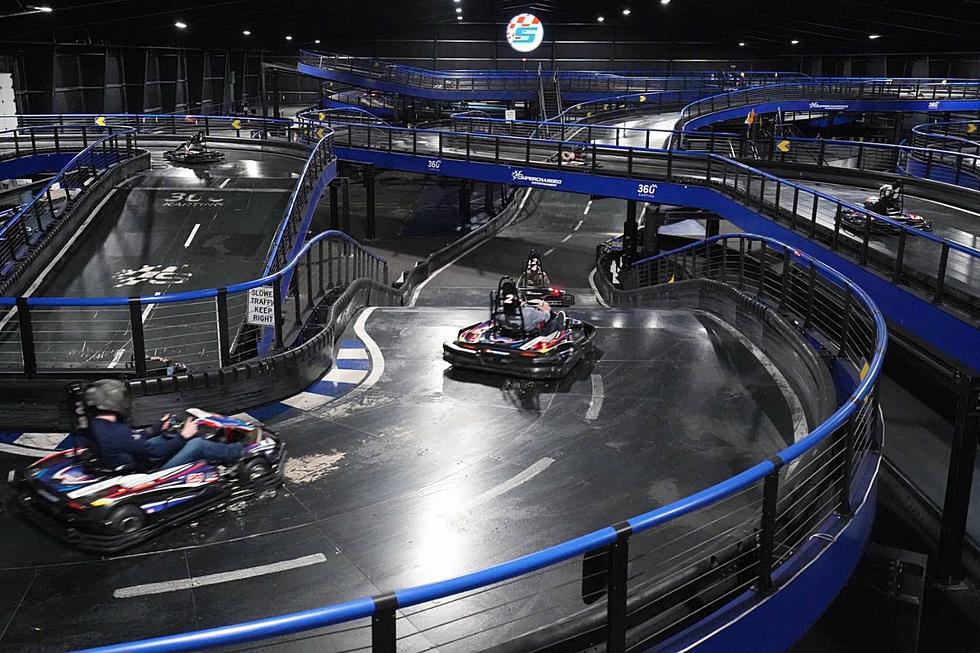 Did You Know the World's Largest, Multi-Level Indoor Go-Karting Track is in New England?
Supercharged Entertainment via Facebook
There's nothing more thrilling than racing your buddies on go-karts.
This writer remembers afternoons spent at the local mini golf place with friends, which inevitably meant going to the go-kart track. After all, when you've been standing in the sun on the golf course, you need something more adrenaline-pumping to balance that out.
There's also the fact that when you're a kid who can't drive, it's thrilling to step on the gas in a safe environment where a little road rage never hurt anyone (provided it's all in good fun). Even as an adult, it's fun to race your companions and ensure that they eat dust when you cross the finish line first (or, you could be "that" person who spins out, requiring the person in charge to free you from the tire barriers).
In summary, go-karting is the best. And as it turns out, the largest, multi-level indoor go-karting track in the world is here in New England.
Supercharged Entertainment is an indoor event and party center with huge entertainment venues in Wrentham, Massachusetts, and Edison, New Jersey. Visitors can take on a Ninja Wipeout course, trampolines, bumper cars, a gaming lounge, axe throwing, a gaming arcade, and more, according to their website.
Most notably, Supercharged Entertainment is known for taking the sport of go-karting to a whole new level. The website states that both locations sport "two uniquely designed tracks that can be combined into our 80,000 sqft Supertrack", operating in a "zero emission, climate controlled facility!" Each track is over a quarter mile long, and with frequent elevation changes, you'll undoubtedly fulfill your need for speed.
Check out the video below to see drivers in action on this thrilling course, thanks to this POV video shared by Speed CQ on YouTube. This really makes you feel like you're in the middle of a racing video game. Talk about insanely cool.
If you want to devote even more time to improving your skills on the track, Supercharged Entertainment also has their own racing leagues. Those who sign up for a six-week session can participate in three competitive races a week for the chance to win "a trophy and bragging rights."
To learn more about Supercharged Entertainment, click here. You can also view a detailed breakdown and model of the tracks here.
In the meantime, here's a look at some other popular go-karting spots in New England.
Discover the Best Go-Karting Spots in New Hampshire and Massachusetts
Gallery Credit: Megan
Get a Hole in One at These 8 Popular Mini Golf Courses in New Hampshire
Gallery Credit: Megan
New England Home to 7 of the Best Ice Cream Places in the Nation, According to Yelp
Gallery Credit: Megan