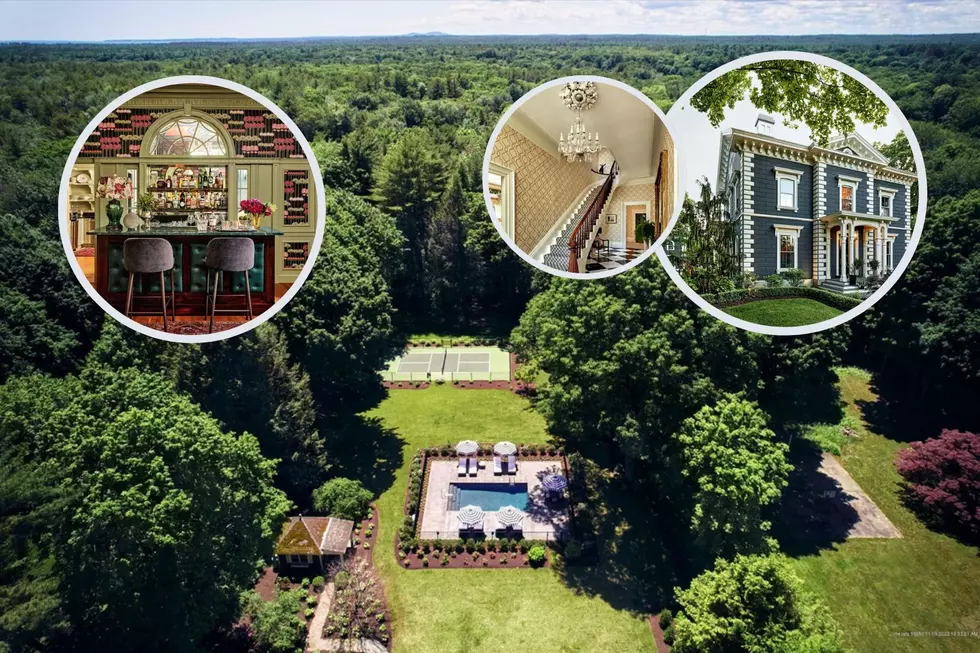 Ultra-Cool Maine Home for Sale Has a Secret Passage to a 1000-Book Library and Wine Cellar
Pack Maynard Real Estate Kennebunkport
It's not too often you come across a Northern New England home with a swimming pool and pickleball court.  Of course, that's not the only intriguing aspect of 35 Summer Street in Kennebunk, Maine. This home, built initially to be a boutique hotel, also has a secret passage.  Listed by Pack Maynard Real Estate for $3,995,000, this dreamy six-bedroom, six-bathroom home is on an Italianate-style estate and is a true fantasy.  The current owner, Timi Harrington, spoke to the Boston Globe:
I'm selling it with everything; you walk in with your toothbrush. You could close on a Friday and have 100 people at a cocktail party that Friday night.  I bought it during COVID, and then I went in and it needed a refresh.
The immaculate home was originally built in 1855 and known as the "Joseph Titcomb House", built for the Maine politician.  It sits on over two-and-a-half acres, with patios, paths, and gardens, as well as an outdoor fireplace, swimming pool, pond, pickleball court, and the grandest of kitchens that include three ovens, two refrigerators, and four dishwashers.  There's also a carriage house and a 1000-book library.
As for the secret passageway, it's just like out of a murder mystery where you pull a book from the shelf.  That's how you get to the library with a humidor, wine cellar, and tasting bar.  The property also comes with a gym and parking for five cars.
Take a look at what the place looks like below!
Kennebunk, Maine Home Once a Boutique Hotel has a Secret Passage to a 1000-Book Library and Wine Cellar
Start Your Day by Visiting These 21 Breakfast Places in Maine