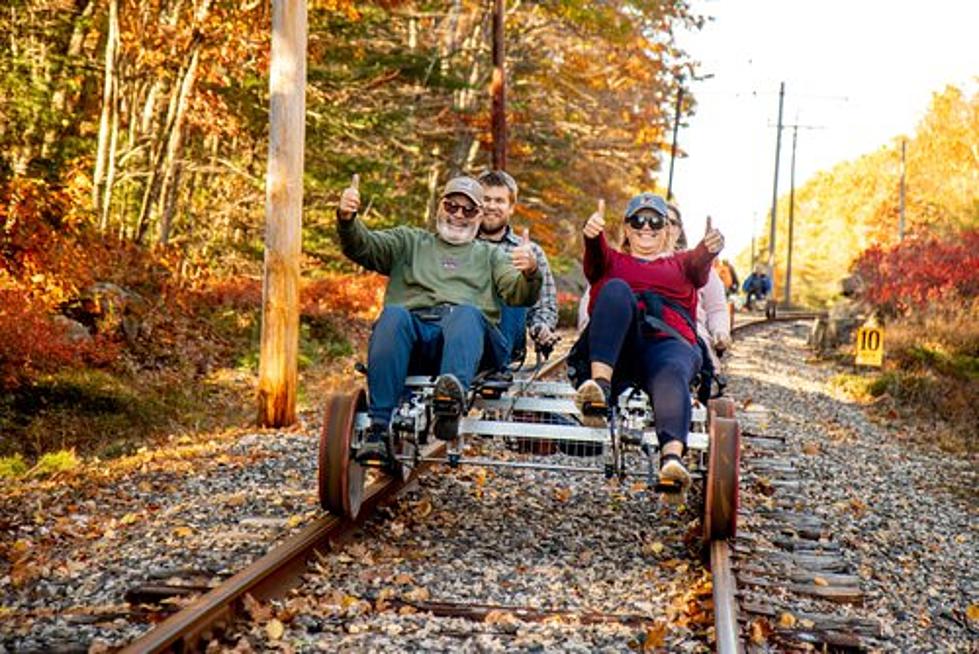 It's a Bike, It's a Paddleboat, It's Rail Cycling in Maine
revrail.com
Have you done this?
There are a couple of places in Maine where you can actually ride the rails powered by you and your bud(s). There's a place in Central Maine between Waterville and Belfast called B&ML Rail Cyclers. That's Belfast and Moosehead Lake Rail Cyclers and it's in Thorndike, Maine. They offer two-seat railbikes. It's the best bargain at only $23 a seat. You can ride along the Belfast and Moosehead Lake Railroad Tracks getting a unique and different perspective of the wildlife and nature.
It's not hard, it's quiet and oops, you get a little exercise in too! According to B&ML Railcycles,
Railcycles are basically a tandem single speed pedal bike built specifically for the rails.
Then if you head south you have the option of a two or four-seat rail bike at Revolution Rail Company. This company offers tours in New York, New Jersey, Colorado, and Maine! The Maine station is located in Kennebunkport.
This one is a bit pricier at $100 for 4 and $60 for two. They work with the Seashore Trolley Museum, the world's first electric trolley museum. The ride is a 3.5-mile stretch on a historic railroad. You can learn about the area and then grab some lobster in beautiful downtown Kennebunkport. You also get admission to the Seashore Trolley Museum with your railbike ticket through the end of July!
Try something new this summer and see Maine in a whole new way! Whether it's in the heart of the woods, or down in coastal Kennebunkport - what fun!
LOOK: Highest-rated free things to do in Maine, according to Tripadvisor