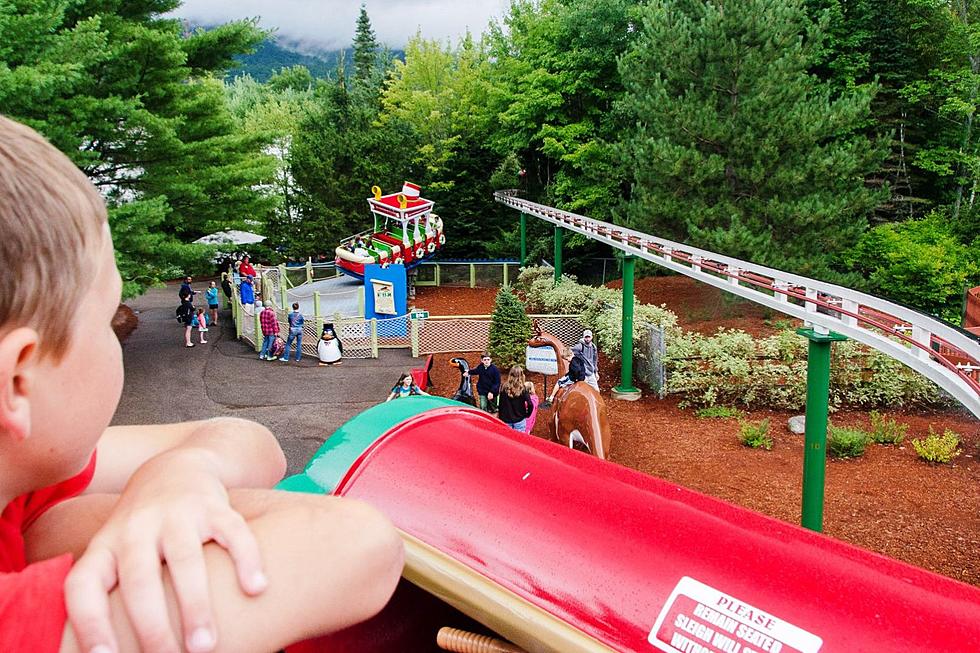 Final Farewell: Most Popular Ride at Santa's Village in New Hampshire Closes October 31
Santa's Village via Facebook
Wow. It's the end of a 35-year tradition.  It's never easy to see a much-loved tradition go by the wayside, and that's exactly what's happening at Santa's Village in Jefferson, New Hampshire.  Yes, Santa's Village is bidding farewell to one of its most popular rides this fall, which means it's time to take those last rides.
As amusement and theme park season winds down, a favorite in New England is the 23 rides at Santa's Village, with mostly Christmas or winter-themed names designed for the little ones and pre-teens.  Rudy's Rapid Transit Roller Coaster, which twists and turns through the trees of the park, is officially going into retirement at the end of October, 2023.  Kids and adults climb and then descend 26 feet on a double-figure-eight track with multiple dips and turns at up to 22 mph.
According to Santa's Village, this is the time to ride Rudy's and feel like you're flying with the reindeer, except without the whole "traveling the whole world in 24 hours" thing that Santa does every Christmas Eve.
What an end to an era, as Rudy's has been at Santa's Village since 1988, according to the website. And all you have to do is jump on Facebook to see the comments of disbelief and sadness.  However, the good news is that something new will take its place.  According to Santa's Village, just like when the Great Humbug Adventure was retired for a beautiful modern ride, Rudy's, too, will eventually be the home of something fresh and modern.
Celebrities Who Look Alike
It's said that everybody has a doppelganger (a.k.a. look-alike) somewhere out in the world. And this yields true for celebrities, too, apparently. As wild as it is to think there are people out there who look like some of our favorite celebs, it's even more mind-blowing that some of Hollywood's shining stars actually do look similar to one another. Don't believe us? Check out these 25 pairs of Hollywood look-alikes.
Gallery Credit: Kayla Thomas
The Best Movies Released in the '90s
To celebrate the incredible cinematic achievements of the decade,
Stacker
compiled data on all 1990s movies to come up with a Stacker score—a weighted index split evenly between
IMDb
and
Metacritic
scores. To qualify, the film had to have a premiere date between 1990 and 1999, have a Metascore, and have at least 1,000 votes. Ties were broken by Metascore and further ties were broken by votes.
Keep reading to discover which film featured one of the most disturbing scenes in cinema and which big movie star made the list multiple times.
Gallery Credit: Jason Kessler