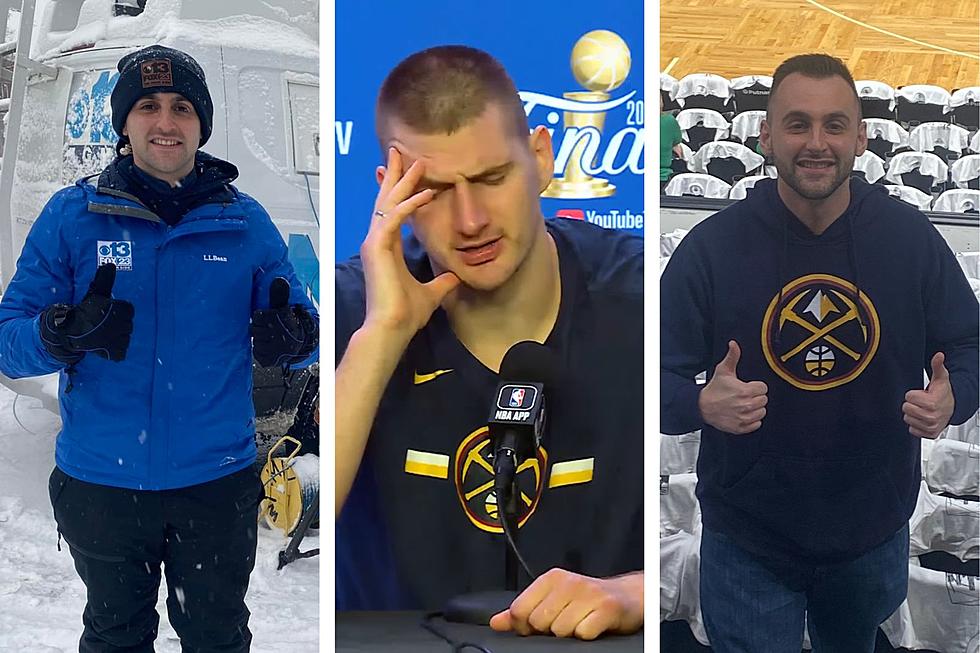 This Maine Meteorologist Is Happier About the Nuggets' Win Than the MVP
Credit: NBA on YouTube / Meteorologist Ryan Munn on Facebook
Meteorologist Ryan Munn, known for his unwavering dedication to successfully predicting weather patterns, is celebrating a victory of a different kind today. I've known Ryan for several years now, and if there are two things that he geeks out about most, it's weather and his Denver Nuggets. Although, a good chicken parmesan could give either a run for their money, depending on the day.
The Denver Nuggets triumphed in the NBA Finals last night, emerging victorious against the Miami Heat in five games. This marks their first-ever championship win in the history of the franchise. As a passionate Nuggets fan, Ryan is certainly happy with last night's result, to say the least.
Now working as a meteorologist and reporter at WGME, having joined that team in Portland earlier this year, he's brought with him a wealth of Pine Tree State experience from his time at WABI TV-5 here in Bangor. 
Ryan's allegiance to the Nuggets dates back to 2007, long before the team experienced its recent surge in success. He proudly declares that he has been with the Nuggets through thick and thin, and his loyalty has been steadfast. Attending a handful of Nuggets games at TD Garden, he cherishes the memories and the exhilaration of being a part of the team's journey.
Despite narrowly missing out on his third consecutive Most Valuable Player award this season, Nikola Jokic, the superstar of the Nuggets, etched his name in NBA history by capturing the prestigious NBA Finals MVP title. Jokic amassed an impressive stat line of 28 points, 16 rebounds, and 4 assists in the closeout game. Throughout the postseason, the Nuggets showcased their formidable prowess, leaving opposing teams at a loss for answers in the face of Jokic's sheer and humble brilliance.
Directly after the game, when asked about his feelings as an NBA champion, Jokic responded to ESPN's Lisa Salters on the court, saying, "It's good. It's good. The job is done, and we can go home now."
After essentially pulling an all-nighter to watch the celebrations, Ryan rocked the morning show on just an hour of sleep, fueled by his infectious excitement. So, if his forecast seems a bit more off than usual today, cut him some slack—he's still riding that championship high! 
Today, we celebrate not only the success of the Nuggets, but also the unfaltering dedication of individuals like Ryan Munn.
Congrats on the NBA Championship, Ryan! (and also to the Denver Nuggets, I suppose)
LOOK: The most extreme temperatures in the history of every state
Stacker
consulted 2021 data from the
NOAA's State Climate Extremes Committee (SCEC)
to illustrate the hottest and coldest temperatures ever recorded in each state. Each slide also reveals the all-time highest 24-hour precipitation record and all-time highest 24-hour snowfall.
Keep reading to find out individual state records in alphabetical order.