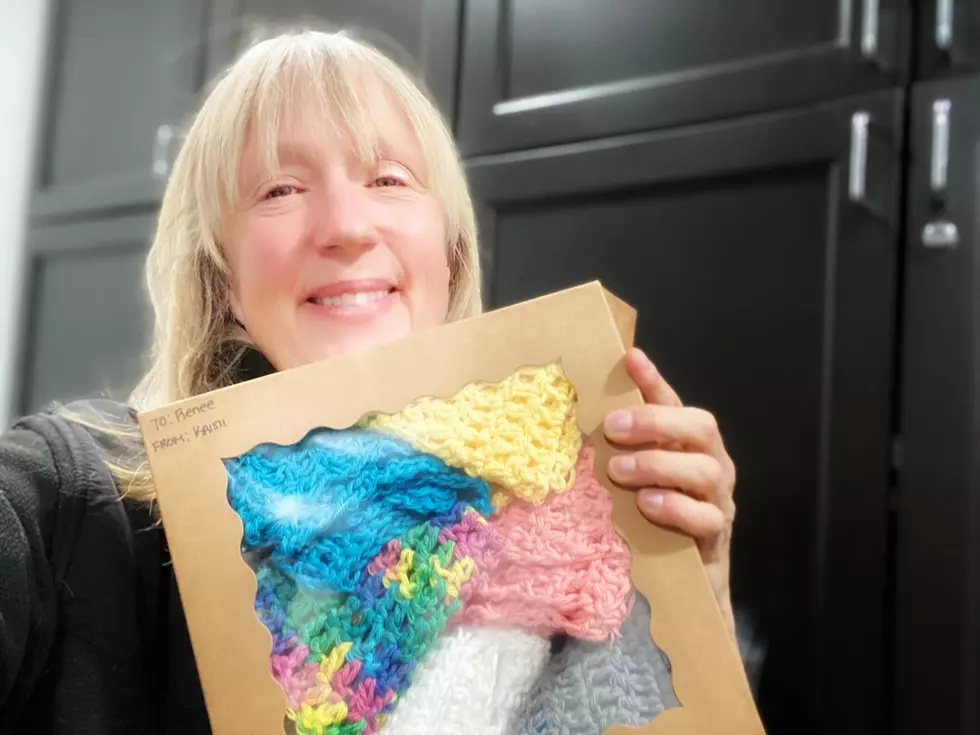 The Christmas Gift That Made Renee Cry This Year
Renee Nelson
I had a nice Christmas weekend with some lovely conversations with loved ones, some beautiful gifts, and time to relax. But when I came into the office after Christmas, I found a gift that touched me beyond belief.
A box of knit dishcloths.
These types of dishcloths work well. But since they are generally handmade, unless you have a crafty hook-up or are crafty yourself, they can be hard to come by. I recently made mention how much I like them. That prompted what turns out was the best gift of all…connection.
Kristi Marie, the co-host on B98.5, hooked me up. Her Grandmother made me not one, not two, but six of these beauties. I understand there was a Facetime call between Kristi and her Grandmother to pick the colors. They are unicorn colors because I like unicorns. (I am crying even writing this). After the materials were delivered I am told it took her a few hours to craft these just for me.
Kristi's Grandmother, like a lot of older family members, has been careful with contact due to the pandemic and, as a result, has not been as social over the last nine months, so I can't do what I want to do…give her a big hug! But as soon as hugs are acceptable again, she (and a big list of some other people) are getting hugs if they are open to it!
Thank you, Kristi and your Grandmother.
---
Do you have our free radio station app yet? If not, it's the perfect way to request a song, talk to the DJs, enter exclusive contests and to stay up to date with everything that's happening in and around Central Maine and the world. When you download it, make sure you turn on the push notifications so that we can send you exclusive content and local breaking news that you need to know about first. Just enter your mobile number below and we'll send a download link right to your mobile device. After that, you can download for free and immediately begin accessing all kinds of exclusive content tailored just for you. Give it a try and stay connected with us!
Enter your number to get our free mobile app
Here's 10 Things That A Real Mainer Would Have