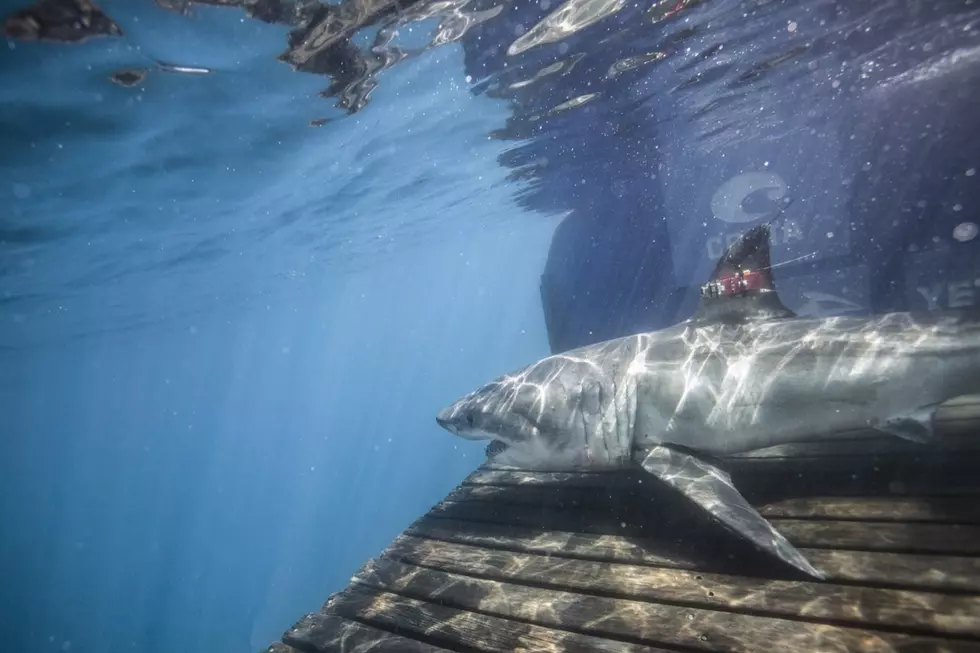 There's a 10-Foot, 460-Pound Great White Shark Swimming Off the Coast of Maine
via Ocearch.org (Chris Ross)
There's an inevitable truth that Maine is facing with a warming Atlantic Ocean, and it has nothing to do with lobsters. Instead, that reality is great white sharks swimming in waters closer to the coast as they search for food. According to the Bangor Daily News, it's still considered a rarity to spot a great white off the coast of Maine, with the large sharks spending most of their time in deep water and away from the coast. Maine has averaged between 1 and 3 sightings per year over the last 5 years. But there's already been two sightings this year, including one off the coast of Ellsworth this past weekend.
Shared on Facebook by CHCO Television, a 10 foot long, 460 pound female great white shark named Crystal was tracked right outside of the Bay of Fundy near Ellsworth on Sunday. Scientists believe Crystal is on her way to Grand Manan, New Brunswick, for prime feeding. As of this writing on Monday evening, Crystal had made her way off the coast of Jonesport.
Crystal is the second great white spotted off the coast of Maine in 2022. According to Newsweek, a 1,000 pound great white named Ironbound was spotted in the Gulf of Maine  in late-May. Ironbound was tracked staying in deep water while Crystal ventured far closer to the coast.
If you're interested in following Crystal's movements while she's in the northeast as well as any other sharks that venture into the waters off of the Maine coast, Ocearch offers a free-to-use tracking website.
---
All Aboard! 4 Boats You Can Rent and Sleep on for a Special Vacation in New England
A unique vacation on New England waters.
The 10 Most Dangerous Places To Live in Maine Right Now
Based on crime statistics and patters, here are the most dangerous cities in Maine for 2022