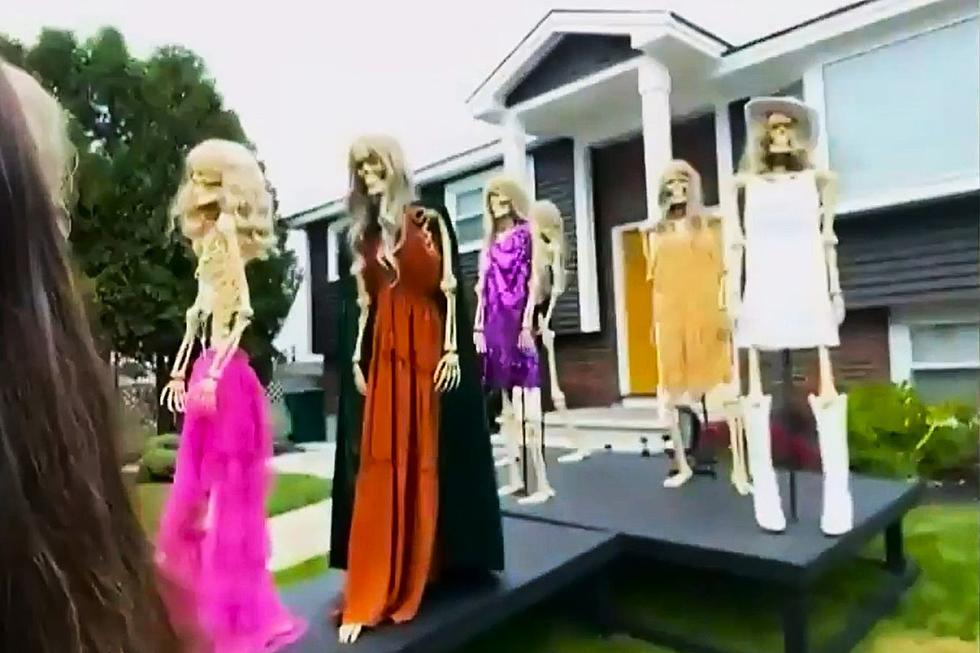 Videos: Taylor Swift Halloween Display in Massachusetts is Going Viral
Francieli Fragoso Tik Tok
Shocker (insert sarcasm here). Taylor Swift will not only be one of the most popular Halloween costumes in the country this season, but is already proving to be quite popular for decorating lawns.  It's happening across the country, including the Boston area, with life-size skeletons dressed in various Taylor Swift outfits and album themes based on her latest Eras Tour.
According to WHDH Boston, a Swiftie in Lowell has a super fun one creating a Taylor Swift-inspired Halloween display, attracting plenty of attention with homemade outfits for each skeleton. According to Francieli Fragoso's TIkTok videos, the display features skeletons decked out in various outfits from Swift's Eras Tour. You can tell a lot of work went into this Halloween fun that's spread out on the front lawn, and Francieli even built a stage where the Taylor skeletons are performing. There's even a skeleton sitting and playing a life-sized piano. It's by no means unique in the Halloween decorations and displays department, as these various Taylor-themed lawn displays are popping up all over the country, but they're all different. Francieli's is the only one I've found that has Taylor Skeletons performing in concert.
According to WHDH Boston, it was back in May when Francieli decided to go all out and create the yard display. At the time, she and her daughter, both Swifties, went to Taylor's Eras Tour concert at Gillette Stadium. Added to the Halloween lawn decor is Taylor's latest boyfriend, Kansas City Chiefs tight end Travis Kelce.  He's a skeleton as well, and dons a Chief's football jersey.
Target's List of the Top Toys in 2023
Target released their Top Toys 2023 list. Here are some of the toys you can expect to see on your kid's wish lists this year.
Gallery Credit: Danielle Kootman
Celebrity Nude Photo Leaks
Many celebrities have been victims of hacks which resulted in some of their most intimate pictures being shared with the world. Below, discover 25 celebrities who were victims of nude photos leaks.
Gallery Credit: Natasha Reda