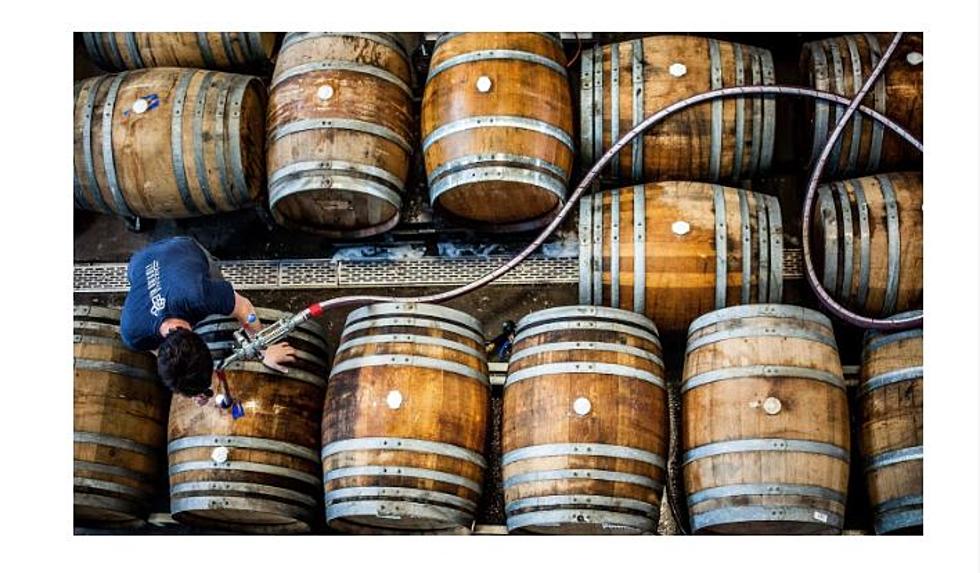 10 of the Biggest Brewers in Maine Ranked by Barrel Production
Bissell Brothers.com
Maine has the second-highest number of craft breweries per capita in the country. Only Vermont beats us and only because it's per capita. So which breweries in Maine are the biggest and which ones did you help get there? Mainebiz ranked the 10 largest brewers based on barrel production in 2021. They sourced the Maine Bureau of Alcoholic Beverages and Lottery Operations audited production figures, Maine Brewer's Guild, and each brewer via survey. Here are the 10 biggest brewers in Maine ranked by 2021 production in barrels.
10. Orono Brewing Company / Orono - 7,657 barrels
Orono Brewing Company opened with a bang on NYE 2014 and ever since they've been brewing the best beer they can. And a lot of it. For a company under 10 years old, they crank production and are loving it. So does their growing community.
9. Mast Landing Brewing Company / Westbrook - 11,157 barrels
Mast Landing Brewing Company was founded in the spirit of innovation, collaboration, and creativity in 2016. They've been in festivals across the country and internationally and have taprooms in Westbrook, Freeport, and South Portland. Their goal is to make sure that every Mast Landing beer that you drink is amazing. Job well done.
8. Sebago Brewing Company / Gorham - 11,875 barrels
Sebago Brewing Company was started in 1998 by three friends: Kai, Tim, and Brad. This brewery and beer have come a long way from the brewery and brewpub in Gorham, to the brewpubs in Scarborough and Kennebunk. After 25 years, Sebago has grown into a community of talented brewers, cooks, long-time staff, loyal guests, and craft beer lovers.
7. Banded Brewing Company / Biddeford - 12,481 barrels
Banded Brewing – originally Banded Horn Brewing –  Biddeford's first brewery, started in 2013. Banded stands for solidarity, like banding together and they mean that for both in and out of the beer industry. They strive to make a high-quality and varied lineup of beers and we can't get enough of them.
6. Bissell Brother / Portland - 13,000 barrels
Bissell Brothers are actually brothers, Noah and Peter Bissell and they started their brewery in 2011. You can thank Noah's homebrewing obsession, and Peter's interest and burgeoning experience in entrepreneurship and marketing. That's the combo for a great brewery.
5. Baxter Brewing Company / Lewiston - 17,329 barrels
Baxter has been around since 2011, crafting quality, drinkable beer for the 'Mainer in all of us'. They were inspired by West Coast IPAs and wanted one for Mainers. So they created Stowaway India Pale Ale. It worked because Stowaway is the best-selling Maine-made IPA across New England.
4. Lone Pine Brewing Company / Portland - 21,635 barrels
Since opening in March 2016, it has built its reputation on hop-forward core beers: Portland Pale Ale, Brightside IPA, and Tessellation Double IPA, recently adding a New England double IPA, Oh-J, to the year-round lineup. Demand for Portland Pale Ale is exceeding all expectations!
3. Maine Beer Company / Freeport - 24,767 barrels
Brothers like making beer. Stories usually start with brothers like drinking beer and tinkering with making it. That's how Maine Beer Company started about 15 years ago. They worked on one beer, Peeper, and thought if people liked it great, if not, we'll go back to our day jobs (Dan was a lawyer!). Guess what - people love their beer.
2. Shipyard Brewing Company / Portland - 60,440 barrels
There are a few breweries in Maine that one could say started it all. Shipyard is one of those breweries. They were one of the first big breweries in Maine to crank out some of our favorite beers. They've been at this for over 25 years making award-winning beer handcrafted by a team of brewers who learned their art from the world-renowned master brewer, Alan Pugsley.
1. Allagash Brewing Company / Portland - 118,315
I can't imagine anyone thinking of starting a brewery who doesn't look to Allagash to follow in their giant footsteps. They are dedicated to running their business in a way that benefits their employees, helps the community, and reduces their impact on the environment. It must be working because their employees have also voted them as Maine's best place to work every year since 2013. Oh, and they make amazing beer winning Brewery of the Year, for their size category, at the 2021 Great American Beer Festival. Plus their founder, Rob, won the James Beard Award for Outstanding Wine, Spirits, or Beer Professional in 2019. So there's that.
How many of the top ten do you love?
Here's 30 Maine Craft Beers to Get Lost on an Island With
Thanks to our great listeners, we compiled a list of many of Maine breweries' best beers. The ones you would love to have if lost on a deserted island.
How many of these have you had?