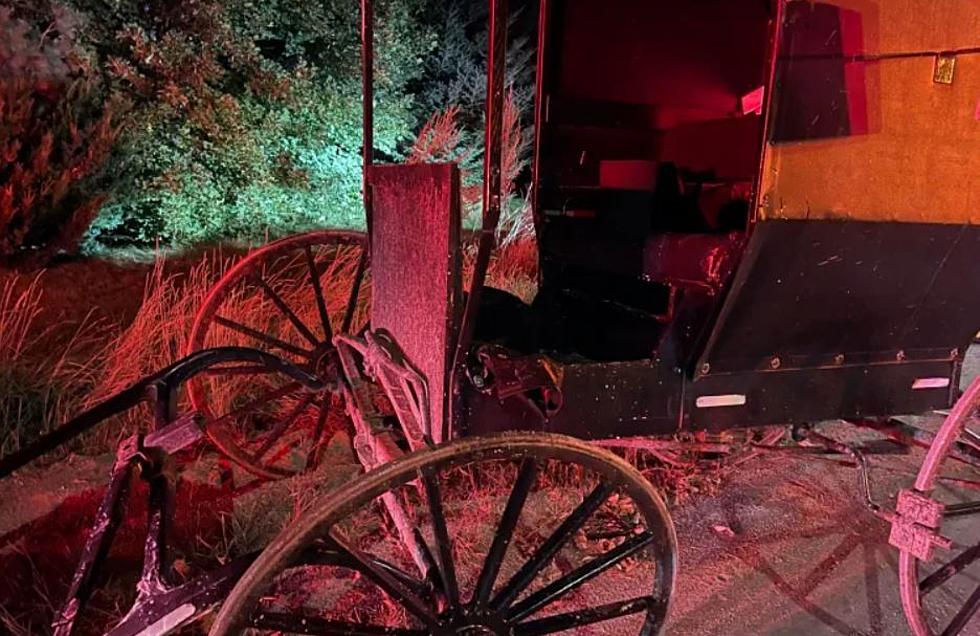 Baby Thrown From Amish Buggy During Nighttime Crash in Whitefield, Maine
Lincoln County Sheriff's Office
According to the Kennebec Journal, the crash happened nearly a week ago in the town of Whitefield, Maine.
The KJ, along with the Lincoln County Sheriff's Office, is reporting that the crash between a vehicle and a horse-drawn Amish buggy happened just after 8p last Wednesday. The crash occurred at the intersection of the Vigue Road and Grand Army Road.
Police say that the driver of the vehicle, 32-year-old, Cody McCutcheon, was making a turn when he struck the buggy. There were two people inside the buggy, the man driving and the infant. The infant was thrown from the buggy during the crash and swiftly taken to Maine General Medical Center in Augusta and was treated for minor injuries.
The Kennebec Journal is reporting that the man on the buggy, as well as the horse pulling it, were not injured in the crash.
Sgt. Scott Hayden of the Lincoln County Sheriff's Office, told the Kennebec Journal in part,
"It was dark and I believe the motor vehicle approached the stop sign at Grand Army Road, and the buggy was crossing down Grand Army Road in front of the intersection. "They (horse-drawn buggies) are pretty dark, and I believe they only have a lantern on the side. They don't have any (reflective) signs on the side of them."
The KJ also reported that the Amish community in Whitefield, and several surrounding towns, are that of the Swartzentruber denomination. This denomination is considered one of the most conservative of all the old order Amish groups. Many are hesitant to add things like reflective tape and lights to their buggies as they fear it could eventually lead to more unwanted change, the KJ reported.
This is a developing story and we will keep it updated as more information becomes available.
Shocking Differences Between Massachusetts & Maine
Here are some things that shock people who have made the move from Massachusetts to Maine.