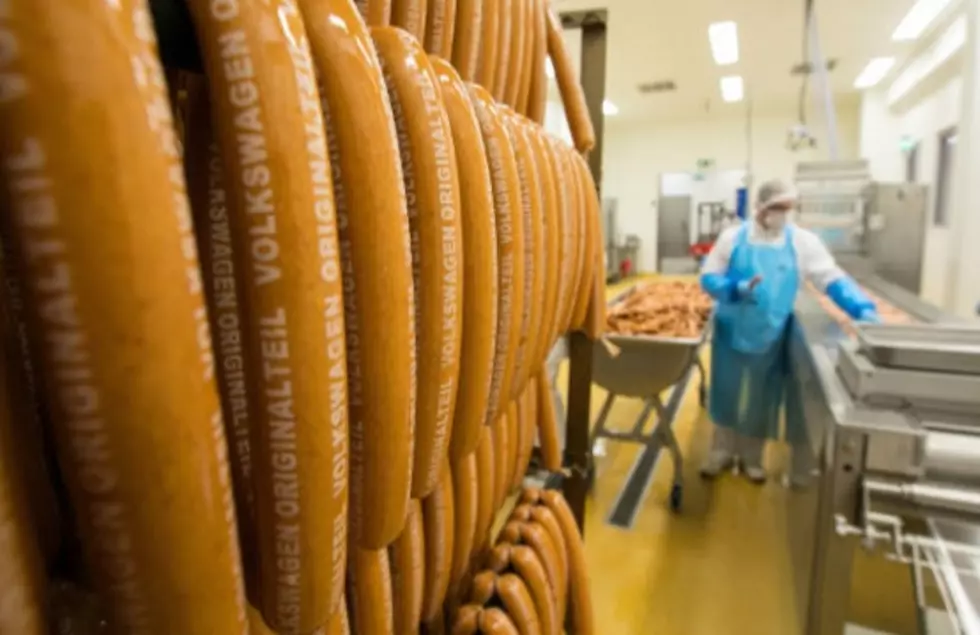 Did You Know Volkswagen Makes Sausage?
Getty Images
I don't know about you, but I was a bit in shock when I found out that Volkswagen, yes, the automaker, has also been in the sausage business since 1973.
The sausage even has an official Volkswagen parts list, it's item no. 199 398 500 A. It's OK, you can check the calendar, I know I did. I  just had to be certain it was really October instead of April 1st.
Volkswagen has been making its own sausage almost since I've been born. If you've never heard of it either, it's probably due to the fact that it is only available in Europe. And it's a big deal. Volkswagen pumps out over 6.8 million currywursts each year. That's more than the number of vehicles the VW brand sells worldwide in a given year.
To an American palate accustomed to bratwursts and other sausages typically labeled "sweet" or "hot," the currywurst walks the broad space in between. There's a strong yellow curry flavor, but with a kick from the pepper and ginger in the spices.
As far as the recipe, well, we are not going to be getting that anytime soon either as it's an official company secret known only to a few people. Interestingly enough it is made in the same factory that it makes it's automobiles at VW's flagship plant in Wolfsburg.
"The sausage is made in-house by Volkswagen employees. About 30 trained butchers oversee the process . Three times a week, the plant takes in fresh pork from nearby farms and grinds choice cuts into a precise mix."
So what do we as Americans need to do to experience this King Car Sausage of Germany? The best chance to taste Volkswagen's hand-crafted cuisine for yourself will likely involve a trip overseas. Fresh currywurst can't be imported here; for those rare occasions when Volkswagen has wanted to serve currywurst in the United States, it has flown the butchers into the country and replicated the production line with local ingredients.
CLICK HERE to read the full press release from Volkswagen and see the production facility
All, I can say is....wow, I'll never look at a automaker the same again. Did you know Dodge actually makes dog food? I'm just kidding, or maybe I'm not.
Enter your number to get our free mobile app
KEEP READING: 3-ingredient recipes you can make right now