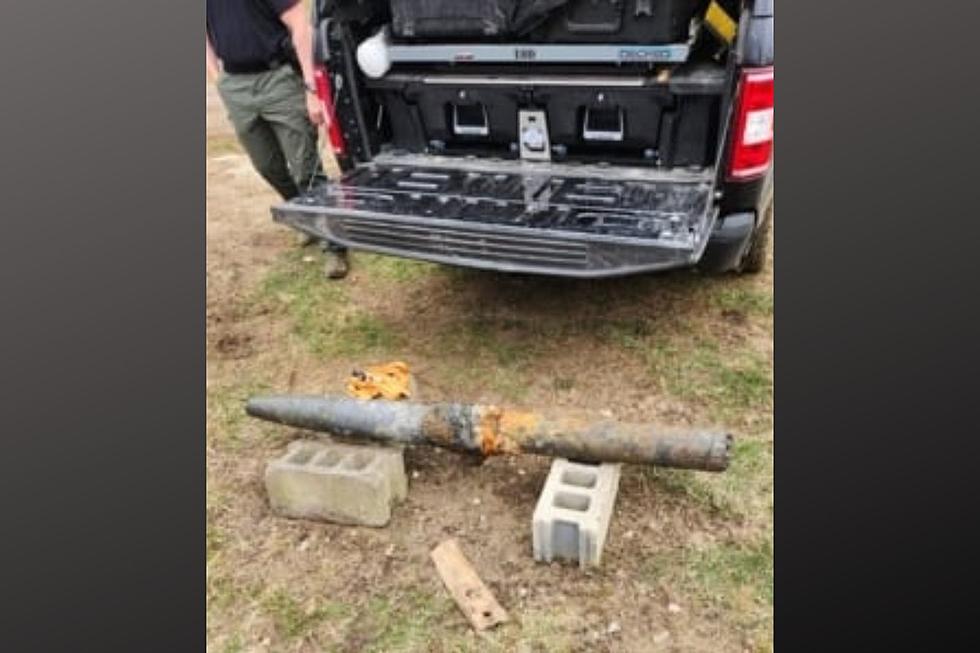 Maine Fisherman Accidentally Catches 5 Foot Long Rocket, State Police Bomb Squad Called In
Maine State Police
Don't you hate it when you're out fishing and you're just not catching anything? Or when you're out on the boat fishing and the weather suddenly turns leaving you stranded in a soaking wet rain storm? Or, our personal favorite, when you're out enjoying a day of fishing and you accidentally net a decades-old explosive? Yeah, that actually happened here in Maine this week.
According to the Kennebec Journal, the incident happened earlier this week while a lobsterman was out fishing off the coast of Maine. However, instead of pulling up a chunky fresh Maine lobster, he instead pulled a five-foot-long rocket out of the Atlantic Ocean and into his lobster boat- no, really!
The KJ is reporting that the lobsterman contacted the police on Tuesday morning shortly after discovering the likely explosive. The fisherman, Cameron Pease, was out about 20 miles offshore of Cushing, Maine when he pulled the suspected rocket aboard, police say.
Maine State Police report that they immediately send members of the State Police Bomb Squad to the scene to assess the situation. Once officials were on scene they were successfully able to identify the object was actually a legitimate rocket! Police say it was identified as an MK29 Mod-0, according to the KJ
What's even cooler? The Maine State Police have a unit that will actually X-ray the rocket to check to see if it does/still contain explosive material. However, because this particular rocket had been in saltwater for so long, it was too deteriorated for that to work properly.
The Kennebec Journal goes on to report that;
The rocket was detonated in a remote field under the guidance of the U.S. Navy's Explosive Ordinance Disposal Mobile Unit 12.
50 Questions About Maine That Were Asked on 'Jeopardy!'
So you think you know Maine? Try your hand at these 50 questions about our state that have been asked over the years on 'Jeopardy!'. Good luck!