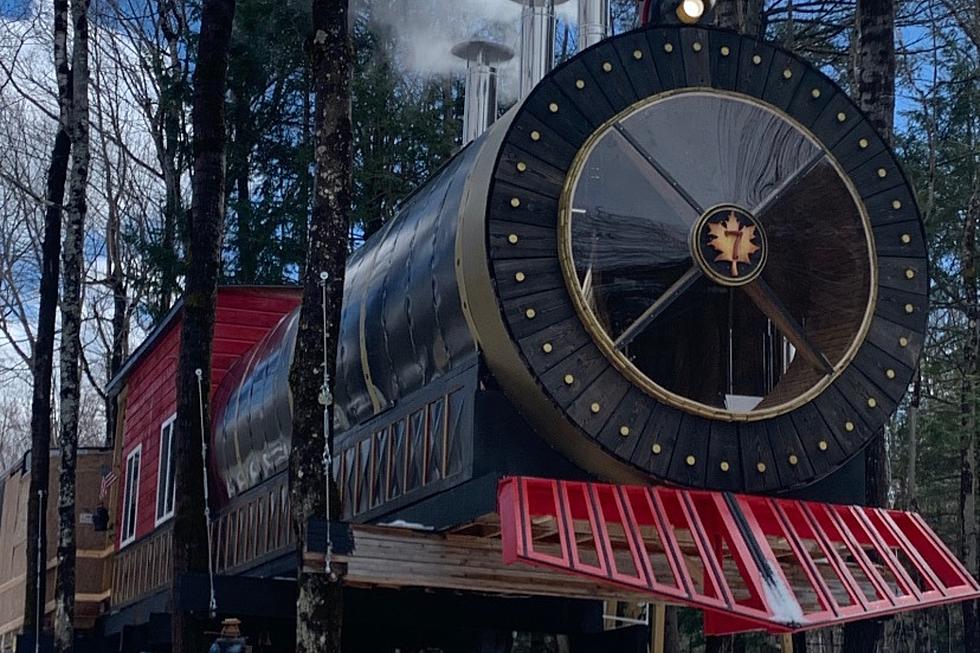 Miss the Maine Treehouse Train That Makes Maple Syrup? It's Opening Again in April
Treehouse Brand Maple Syrup via Facebook
Did you get a chance to go out to one of the many sugarhouses and farmhouses participating in Maine Maple Sunday Weekend? There were so many to choose from.
Well, it was that March weekend that people were finally introduced to the unique and impressive treehouse sugarhouse train at Treehouse Brand Maple Syrup in Auburn.
The stunning train replica, complete with working steam coming out, received such an overwhelmingly positive response that Daniel Giguere is opening up his sugarhouse again to the public.
According to Giguere, Treehouse Brand Maple Syrup will be having a second Maple Sunday open house. It all takes place on Sunday, April 2, from 9 a.m. to 2 p.m.
So if you missed out the first time (or just want to see it again), here's your chance.
The treehouse train project, which began in 2021, was inspired by the TV show "Treehouse Masters," according to WMTW.
Check out some photos of the treehouse train's progress over the years:
The first use of the treehouse to make maple syrup was in early March.
You can see how busy the sugarhouse was on Maine Maple Sunday Weekend based on the photos posted on Facebook:
Time to get another imaginary ticket to the treehouse train and get ready to board this visually cool spot once again (or for the first time). After all, who doesn't want to have a little maple syrup more than once, right?
20 Maine Restaurants That Have Been Featured on National Television Shows
Here's a list of 20 prominent Maine restaurants that have been featured on national television shows. This is a great representation of Maine's incredible food scene.
25 Celebrities Who Have Owned Homes In Maine
From Kittery to Islesboro, some of Hollywood's biggest names have owned homes in Maine. We explore the who and where.