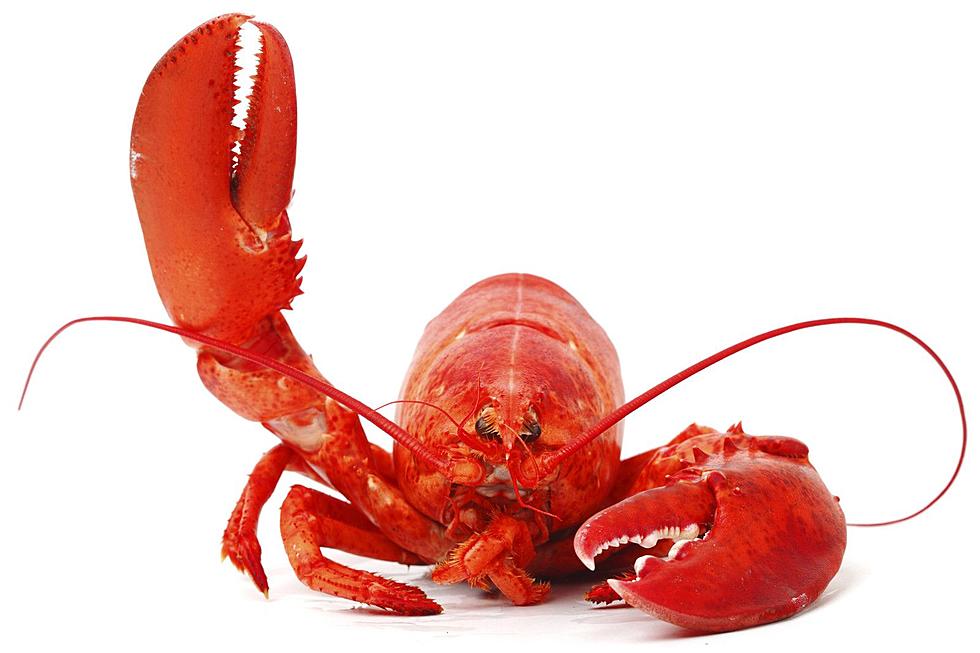 Mainer Demands National Lobster Day Should Be a Statewide Holiday
Getty Images
National Lobster Day should probably be a holiday in the state of Maine. September 25 celebration just screams for Mainers to enjoy a day celebrating our golden goose. Schools, banks, everything should shut down in honor of those culinary crustaceans.
Why not? It's our most important export, employs thousands of people, attracts scores of tourists, and even represents us on license plates.
Just imagine where Maine would be if lobsters didn't exist. What would we brag about?  Puffins? Chickadees? Legalized weed?
Lobsters are essentially our identity. The majority of folks "From Away" would probably tell you the first thing they think about when they think of Maine is lobster. So, with this in mind, I thought it would be good to take a look at some of the most influential and tasty aspects of Maine's lobster industry; the people and things we should celebrate on this newfound Maine holiday.
Fanciest Lobster Roll: Twelve in Portland
Look, I'm not going to sit here and tell you where the best lobster roll is. I value my life too much. However, I will tell you where the fanciest is. That would be the roll at the popular Twelve Restaurant in Portland. Instead of your standard roll, the folks at Twelve stuff fresh lobster in homemade puff pastry. It's simply out of this world.
Most Influential Lobsterman: Jacob Knowles
There's a TikTok star for everything these days, including the lobstering industry. The man who has dominated that title is Jacob Knowles, a fifth-generation Maine lobsterman. His TikTok page has nearly 2.5 million followers, and for good reason. Knowles fires out great videos that help entertain and educate the audience. I highly suggest a follow.
Most Iconic Lobsterman Lobsterlady: Virginia Oliver
Virginia Oliver is badass. Oliver has been lobstering since she was eight years old. She is now 101 and still going strong. According to Newscenter Maine, she still goes out three days a week and works her 200 pots. Nothing seems to slow her down. She is a true warrior.
World's Largest Lobster: Taste of Maine - Woolwich
I didn't say "world largest real lobster." I'm talking about the giant crustacean mascot that sits atop the popular Taste of Maine Restaurant on Route 1 in Woolwich.  Larry the Lobster is an absolute unit. Just look at him.
It doesn't get more Maine than this.
Most Creative Lobster Dish: Lobster Andouille Sausage & Grits
This dish was the winner of the seafood cooking contest at this year's Maine Lobster Festival in Rockland. Hillary Mallette is the woman behind this creative dish. The recipe is genius, considering it combines numerous styles of cuisine. I can't imagine how good this is. Congrats, Hillary. You definitely deserve to have National Lobster Day off.
Best Lobster-Infused Beer: Oxbow's Saison dell'Aragosta
The reviews are strong for this special saison made by Oxbow Brewing. The beer actually includes Maine lobster and sea salt. The beer was also a collaboration with Italian brewer Birrificio del Ducato.
This is just a small sample of the things we can celebrate on this joyous day. I'm telling you, this day was made to be a holiday for Mainers. And I'm not just saying that because I enjoy days off.
Just make it a holiday for us, already.
Happy National Lobster Day to all, and to all a good night.
20 Greater Portland, Maine, Restaurants That Have Been Featured on National Television Shows
Here's a list of 20 prominent Greater Portland, Maine restaurants that have been featured on national television shows. This is a great representation of the region's incredible food scene.
5 Pizza Places In Maine You Absolutely Must-Try According To Food & Wine
From Brooksville to Bath, Food & Wine has identified the five pizza places in Maine that you absolutely can't miss