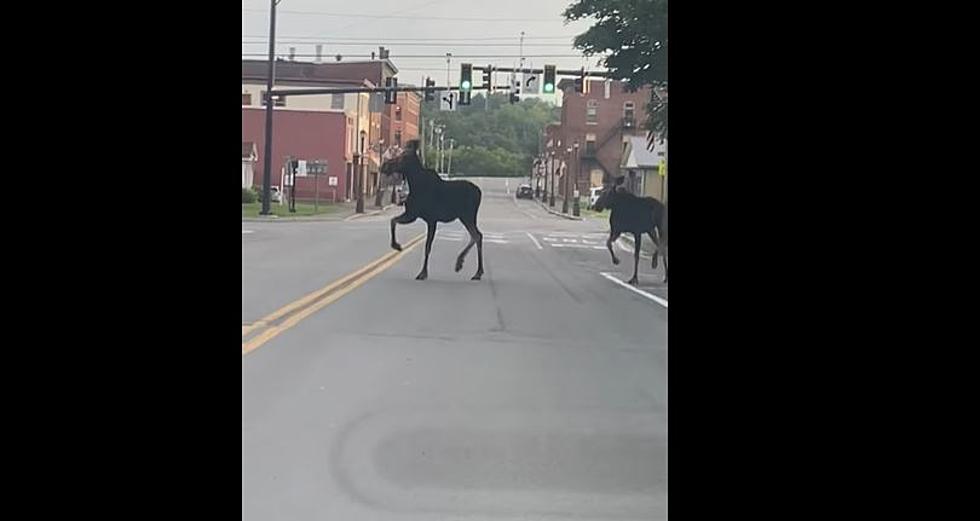 WATCH: Is Jaywalking a Moosedemeanor or Felony in Houlton, Maine?
Melissa Tidd Facebook
Just taking a stroll in downtown Houlton, Maine.
Melissa Tidd on her way to work early in the morning in Houlton, Maine saw something that made the early morning ride just a little bit better! Two moose! And yes, the plural of moose is moose. Don't add an 's'...it's just wrong. Melissa put the video up on her Facebook page.
Such a fantastic sight to see. You can live in Maine all your life and never see a moose (or two) and there you are driving to work and in the middle of town you see two out for a stroll. This was on Court Street in Houlton near Route 2.
Many of the people commented that Moose is Loose is a Houlton event, but in February - NOT JULY! It's a beautiful video and an ironically Northern Maine sight. Melissa was happy to share her video.
I must also credit Robin Lynn Bossie for the headline inspiration of moosedemeanor. That cracked me up. She had commented on Melissa's video on Facebook.
Where can I see a moose?
According to Visit Maine, we have around 75,000 moose in Maine. That's the largest concentration of moose in the country next to Alaska. Catching a glimpse of one can be a once-in-a-lifetime experience. A mature bull moose can easily weigh over 1,000 pounds and antlers can span an average of six feet. But where can you spot one?! Your best shot at moose spotting is in the Western Lakes and Mountains, The Kennebec Valley, The Maine Highlands, and Aroostook County. The best times to spot them are at dusk and dawn from mid-May through July and again in the fall during their breeding season. Melissa hit it perfectly.
Aroostook County
at dawn
in mid-July
Thanks to Melissa we all got to see moose on the loose! Thanks for sharing!
LOOK: 11 tick-borne illnesses and what to watch out for during your outdoor adventures
Stacker
compiled a list of 11 common tick-borne diseases in the U.S. and what symptoms to watch out for, using a variety of medical and government sources.