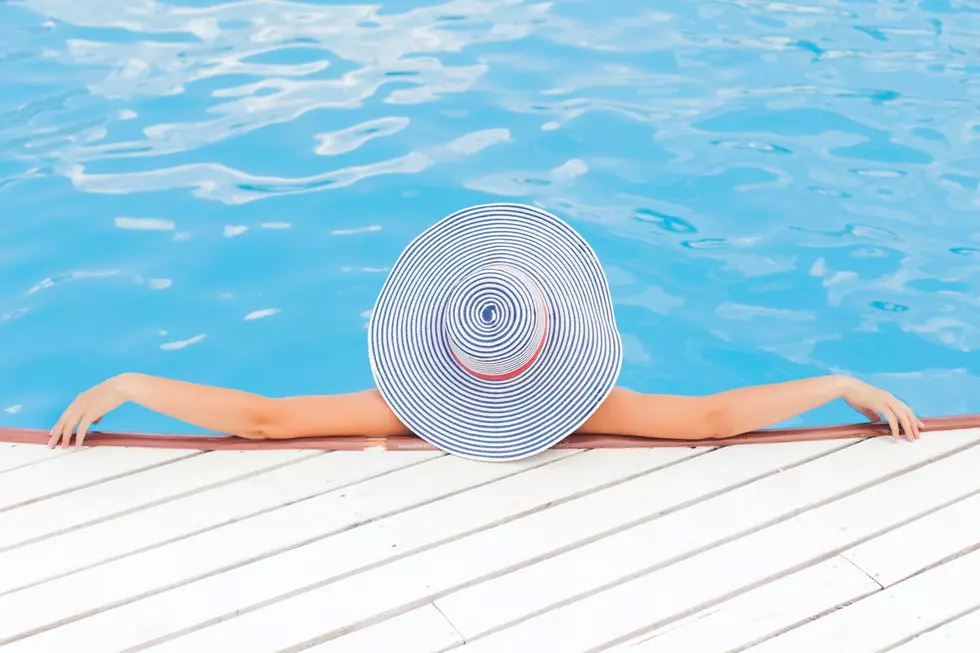 92 Moose is Giving Away TWO Above Ground Pools Just in Time For Summer!
Anna Demianenko, Unsplash Stock Photo
It's finally back! The EPIC 92 Moose Summer Pool Giveaway. And this year, it's better than ever because we don't have just one pool to give away.. we have TWO!
Now how in the heck were able to pull off a double pool give away? And how exactly will this all work? Great questions, let's review.
Thanks to our amazing friends at Merit Pools & Spas here in Augusta, we have a 21' Harmony above ground pool with a ladder, filter, pump and maintenance kit. This pool is valued at a whopping $6,600.00.
But they didn't stop there! Merit has 'thrown in' another Harmony pool. The second one is an 18' above ground pool, also complete with ladder, filter, pump and maintenance kit.
Both pools will be given away at Mill Park in Augusta on Sunday, June 12th. The 21' pool will go to one of our 60 on-air qualifiers who selects the correct key from a bucket of 60 keys, that unlocks the pool lock.
The second pool is going to be raffled off the same day at Mill Park. Anyone 18+, including on-air qualifiers who didn't win the first one, will be eligible to purchase raffle tickets for $10.00 a piece for a chance at the 18' above ground pool. That drawing will be held at a pre-determined time following the give away of the larger pool.
So how do you become an on-air qualifier for the 21' pool? Simple! Just listen to 92 Moose during Matt & Lizzy in the Morning, and in the Afternoons during Cooper's Show, for the 'pool sounder'. You'll know when you hear it because it will give clear instructions to 'call now to qualify'.
The sounder will run in mornings and afternoons at various times and intervals from Monday May 9th, through Friday June 3rd.
The giveaway of both pools will occurr on Sunday June 12th at Augusta's Mill Park with registration of qualifiers beginning at 9:30 and the key/lock process starting at 11.
The 18' pool will be raffled off following the first giveaway with space in-between to sell more raffle tickets. All proceeds from the 18' pool raffle will be sent to Camp Out Hunger 2022.
**NOTE: Installation is not included with either pool**
*CONTEST RULES*
1.  How to Enter the Contest:
a.  The "Make A Big Splash" contest will begin on May 9, 2022 and end on June 3, 2022 Giveaway date is June 12, 2022.
b.   To participate in the contest, listen weekdays on 92 Moose, WMME, for the "BIG SPLASH SOUNDER" when it is played the 9th call on the station contest lines, 626-9200 or 547-9200 will be entered to win. We will take a total of 60 qualifiers.
c. Only one qualifier per household.
2.  Eligibility Restrictions:
a.   The contest is open to all WMME listeners who are 18 years of age or older and who reside in central Maine. Employees of WMME, its licensee, Townsquare Media, their affiliated entities, affiliated advertising agencies, participating sponsors/promotional partners, other radio stations in the central Maine area and the members of their immediate families are ineligible to participate or win.
b.   Listeners are eligible to win a WMME contest only once every thirty days.  Only one winner per household is permitted in any contest.
c.  Valid I.D. will be required for participation.
At the giveaway event on June 12, 2022, beginning  at  9:30am,  qualifiers  or  their  designated  proxies will  register. When the qualifiers register, they will select a numbered envelope. The envelopes will be numbered 1 through 60. The first person to register will get the first choice of number. Every qualifier, or proxy will choose a numbered envelope, beginning with the first person to register. Registration for qualifiers will close at 10:45am. After all qualifiers have registered, that same number of keys, minus 1, will be placed into a special designated container. The key that will unlock the grand prize will be tried on the lock for all to see, and then placed in the container. One and only one of the keys in the container will unlock the lock designated for the grand prize. The first key will be tried at 11:00am, or as close to 11:00am as possible. The keys will be tried in sequential order, beginning with envelope number one (1). Qualifiers will retain their key and envelope number until a winner is decided. Qualifiers are encouraged to not leave until the winning key unlocks the grand prize. If there is not a winner during the first round, that means a contestant did not properly turn the key to unlock the grand prize, so in sequential order, we will try again. Winner will be determined by The Station. There will only be one Grand Prize Winner.
9 Fun & Cheap Activities To Keep Your Family Busy This Summer
12 Incredible Cocktails Perfect For Summer In Maine
Here are a dozen really easy to make (well, most of them are easy to make) summer cocktails. If you REALLY want to play bartender, the Maine spirits
website
has THOUSANDS of recipes.