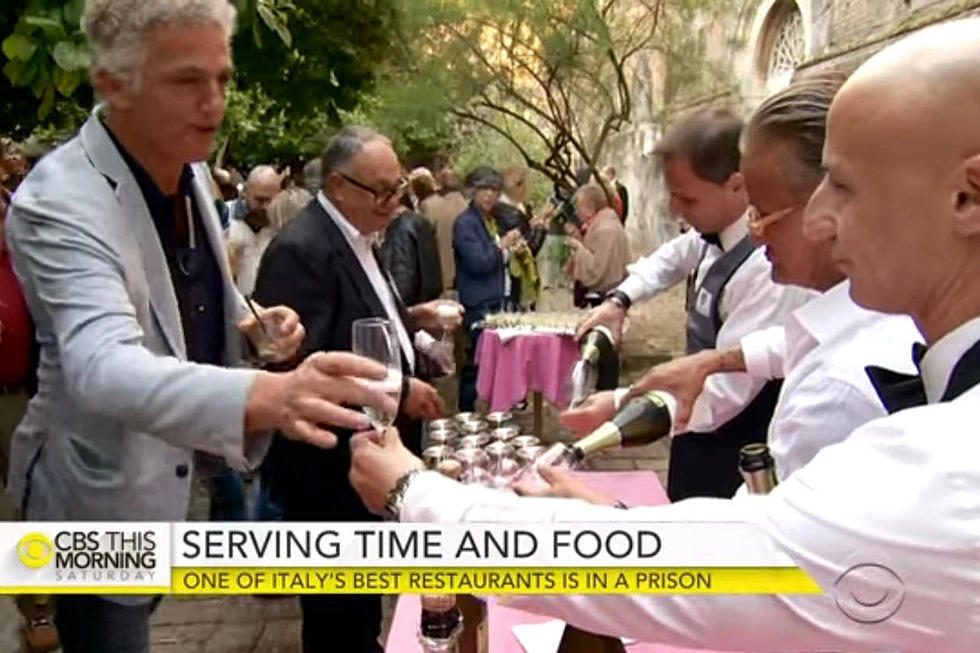 $3.21 for a Meal? Only at This Massachusetts Restaurant That's Inside a Prison
Inside the Italian prison where inmates serve time--and food/ CBS This Morning via YouTube
Did you hear about the restaurant that's located in a Massachusetts prison? Apparently, it's a real cell-fie spot! Get it?
But don't worry, you won't have to serve time to enjoy the food. Just make sure to leave your shiv at home and enjoy a nice meal without any escape plans.
For over 30 years, Fife and Drum a delicious Italian-style restaurant has provided prisoners with the chance to work on their culinary skills and help to prep them for real kitchen jobs after their release. They serve hungry locals but the visitors must clear a massive security check before entering the restaurant, according to the Thrillist. 
On the grounds of this Northeastern Correctional Center in Massachusetts, inmates have the opportunity to cook and serve as part of the center's culinary arts program.
This YouTube video from CBS This Morning features an inmate-run restaurant.
This is a male prison with two levels of security which are minimum and pre-release.
The inmates who work at Fife and Drum, first apply through the educational program. The restaurant is held on a large piece of farmland on the property.
The article states, that the silver ware like knives are chained to stations but other than that the kitchen looks like any other fully operational restaurant.
This project is run by Eddie Jacobs who is an American Culinary Federation-certified instructor. He is the one that manages and teaches the inmates. He has experience in correctional facilities and had his own restaurant.
Next time you say, "I'm headed to the bars" it means you're going to Fife and Drum! 
10 Bagel Shops I Cannot Live Without in Maine
Bagels are delicious. So delicious that I wanted to share my favorite bagel spots in Maine!
12 Restaurants & Bars in Maine with Something Fun to Do While You Eat & Drink
I personally love a place that offers not only good food and drinks but something to do while I enjoy those things, especially when I'm with a group of friends. Here are a few places in Maine that offer activities while you sip and dine: