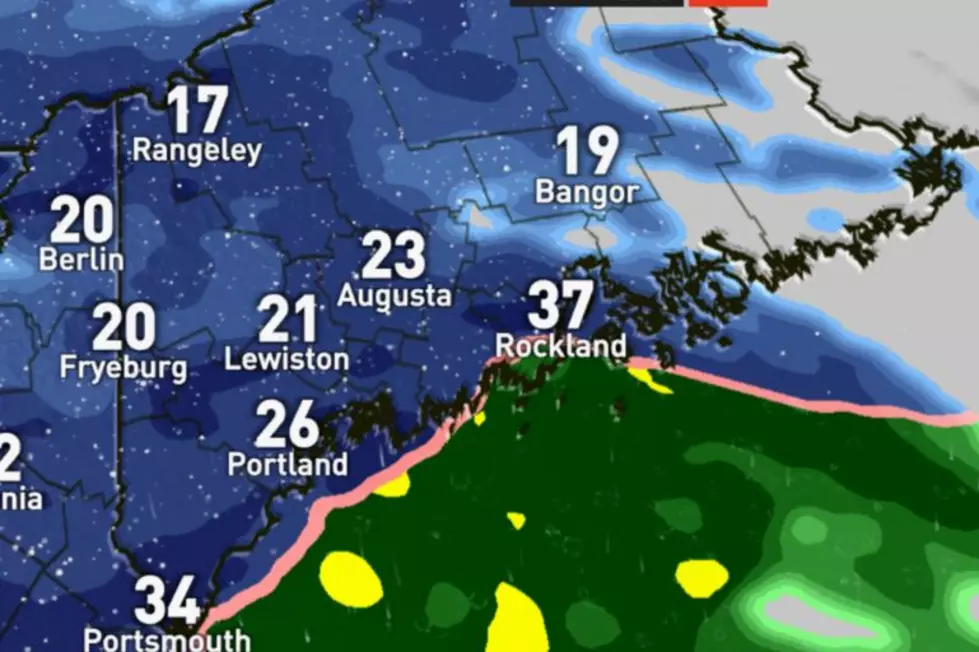 Maine to Get Dumped on Wednesday Night Into Thursday, Snowfall Total Predictions Here
Maine Snow WGME
Okay, whoever keeps using all their magical Genie wishes on more snow for the State of Maine, if you could kindly stop, that'd be just terrific.
Just kidding- kind of. But it does look like we're set to receive another dollop of snow this week. Fresh off the heels of a storm that I feel like most weather people got slightly wrong. I mean, I don't know about you all, but we definitely got more snow in our area than was predicted. And, not just by a little, but a whole lot!
I get it, predicting the weather isn't an easy thing, I totally get it. I'm 35 and still can't figure out the exact amount of time to put the popcorn in the microwave for without burning it, so no hard feelings.
Anyway, I digress. Don't put those shovels and snow brushes too far away just yet because you're going to need them again on Thursday. Well, Wednesday night for people who work the graveyard shift.
According to WGME 13, the next storm system will move into Maine on Wednesday by late afternoon. Southern and coastal areas will be the first to see precipitation with the rest of Maine to follow. As of now, our area (Central Maine) and most all of Southern Maine is under a winter storm watch from Wednesday afternoon through Thursday morning.
After the snow moves in late Wednesday afternoon, it begins to pick up in intensity on Wednesday night into Thursday morning. Below is a graphic from WGME that shows the radar image predicted for 2 AM on Thursday morning. As you can see, Central Maine will be very close to the rain/snow line at that point.
WGME is predicting a few different 'zones' of snowfall totals. 1-3 inches in far southeastern Maine, and then 3-6 and 5-9 inches as you move further inward. Fortunately for you skiers, it looks like the mountains will fair the best from this storm.
The snow/rain/sleet mix should begin moving out of dodge Thursday morning and a quieter afternoon should be on tap for most of us on Thursday.
Great Sledding Places In Maine
Here are some of the best places to take your kids sledding in Maine. Keep in mind that some of these are suggestions from listeners. Because of this, if you are not going to a public space, you are going to want to reach out to the owners to make sure it is okay to sled on their property. *SLED AT YOUR OWN RISK*
Maine & New Hampshire Tubing Parks You Need To Visit
We've put together a list of some of the best snow tubing parks in Maine and New Hampshire. If there is a park that needs to be on our list, let us know by messaging us through our app or on Facebook. Given the on-going COVID-19 crisis, and the fact the attractions are dependent on weather, you are going to want to check the park's website or call ahead to make sure they are operating.