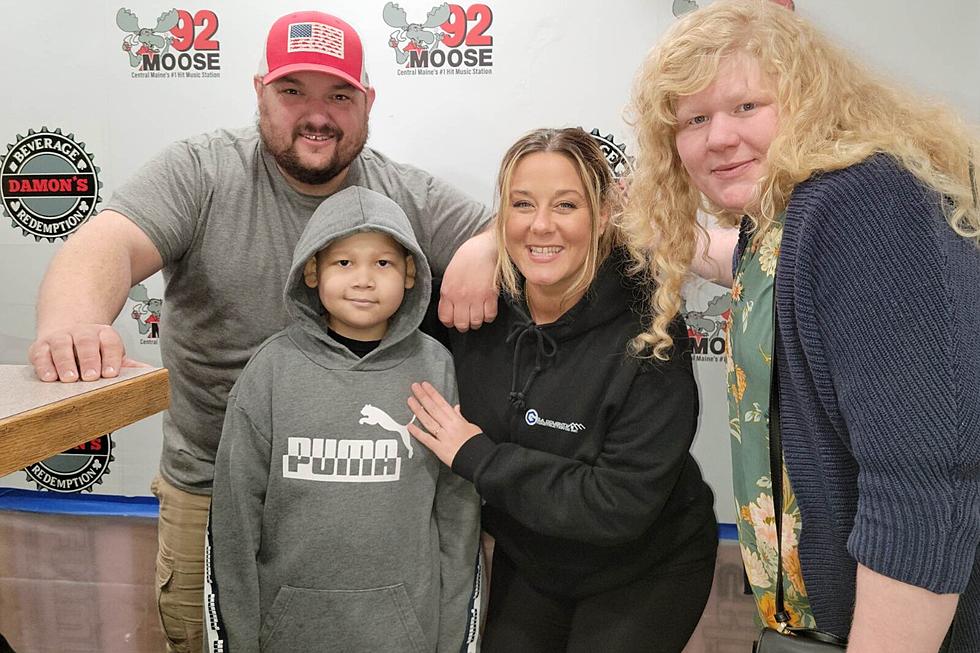 A Maine Boy's Resilient Journey Battling Leukemia
Lizzy Snyder
Aiden's GoFundMe page
Aiden, an 8-year-old Maine boy, from Readfield Elementary School who was diagnosed with leukemia just days after his birthday. His mother, Michelle, reached out to me and I was lucky enough to meet her and Aiden and witness there story of resilience, bravery, and love.
Kindly consider visiting Aiden's GoFundMe page and contributing towards their goal of raising $5,000 to support his family during this challenging time.
Michelle opened up to me and told me,
"Aiden asked me to share his story with others. In his own words, he told me he wanted others to know "this isn't easy and we need to make sure this doesn't happen to other kids." We are 8 months into it, so I feel like I can at least put what's happened into actual words."
Aiden has undergone multiple surgeries, chemo treatments, and has even lost the ability to walk at one point. Aiden's teacher, Mary Conlon, created a GoFundMe page to help support Aiden and his family financially and is planning on shaving her head in support.
Do you remember when you got for your 8th birthday? I remember getting Barbie dolls and play make up. But I can't imagine receiving the news that Aiden got just after celebrating his day.
Unfortunately at that time, they had no answer, but noticed his fingernail beds were blue. They did blood work and Mom got a call around 7:45pm that night.
It was the Doctor calling to let them know she needed to take Aiden to the Portland hospital, not a local hospital but to go straight to Barbara Bush Hospital.
The Doctors words were,
"He may have cancer.  Go now."
Michelle's heart dropped because its not often that you hear something as terrifying as that. She told me she was frozen on her porch with a sick kid on the couch and a sleeping baby in the crib.
Michelle went on to say,
"I called my husband who was on his way home, my mother-in-law to arrange childcare for the baby, and then I called my mom- to cry and panic.   From there it was a blur of driving, people in scrubs, and tears.  My husband and I stayed with Aiden for 2 weeks in the hospital.  After 6 transfusions, spinal taps, multiple surgeries and chemo, Aiden was discharged.  Two weeks later he was taken by helicopter to Portland with infections in his heart and lungs.  He lost the ability to walk and was hospitalized for 4 more weeks."
Cancer has affected not only Aiden but also his family's financial situation, with gas, food, and non-insurance covered therapies being their biggest expenses. Despite the hardships, Aiden remains resilient and determined to beat cancer.
After multiple transfusions, chemo, antibiotics, and therapy, Aiden was discharged with a walker and wheelchair. He underwent more chemo, surgery, and hospital stays. One round of chemo caused neurotoxicity, making one of his eyes spasm. Aiden lost all of his hair before his brother's birthday party. Despite the hardships, Aiden remains resilient and determined to beat cancer. His name, meaning "little fire," suits his fighting spirit.
Aiden's new teacher, Mary Conlon, met him briefly before he was diagnosed with leukemia and could only attend school sporadically due to medical reasons. Despite their limited interactions, Mary was touched by Aiden's story and wanted to help.
She started the
GoFundMe page
for Aiden and even offered to shave her head in solidarity with him. Mary's compassion and dedication to her student are truly remarkable.
Michelle shared that it's difficult to discuss the financial impact of Aiden's illness. Before his diagnosis, she worked as a special education teacher for over 15 years, but had to take leave this year to care for Aiden and their youngest son, Vincent.
"While we are not in the worst financial situation, cancer has affected more than just Aiden's health. We have to make frequent trips for treatment, which adds up in gas and  food expenses. Our entertainment budget has been redirected to non-insurance covered therapies for Aiden's relief and social interaction. Aiden misses being a carefree child the most, and while I can't fix that, I can try to make this challenging time a bit easier."
If you'd like to help this beautiful family deal with something none of us wish for, please visit his
GoFundMe here
 and help them to meet there goal of $5,000.
Look: The best public high schools in Maine
This Maine Football Team Gives Girls The Opportunity to Tackle Their Dreams
This all women's football team is giving Maine girls the chance to tackle their dreams.