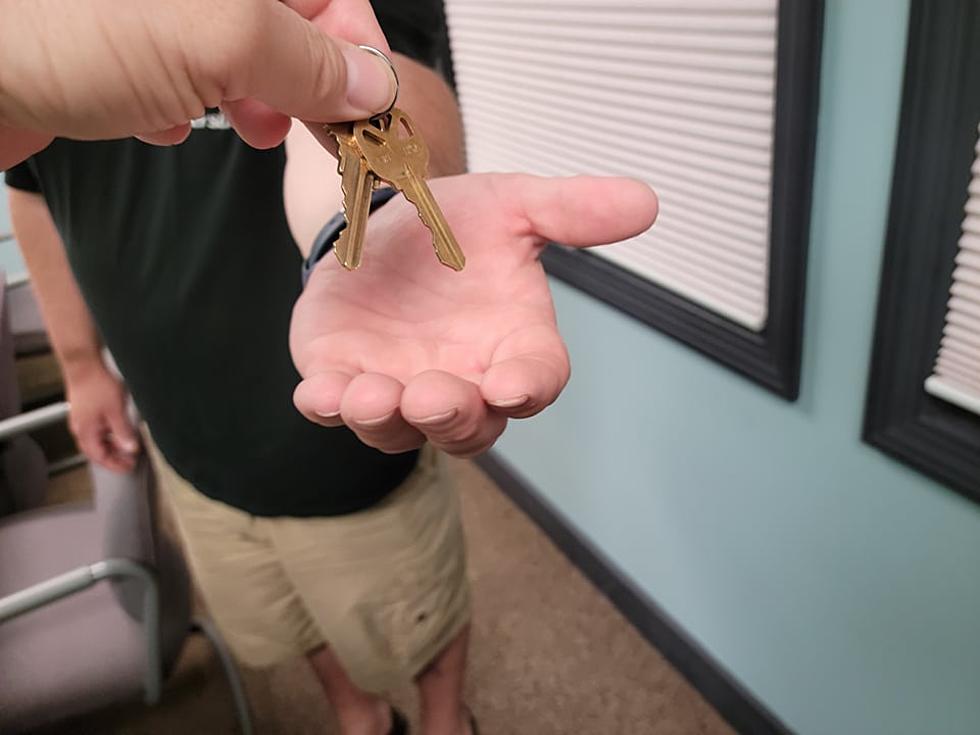 The Completely Unexpected Reason Cooper's Fam Is Getting Evicted
Cooper Fox
Merriam-Webster defines EVICTION as the process "of putting a tenant out by legal process."
To me, as a parent, it means terror and sleepless nights - especially considering the current state of the Central Maine housing market.
It is also something I never thought I would be party to, again.*
About two decades ago, I was kicked out of a hotel I had been staying at due to a "noise complaint".  Long story.  See below.
That's neither here nor there...  Our current situation is completely different and was really unexpected.
Since moving to the Augusta area in 2016, my family has lived in the same, two bedroom, apartment.  It is a nice, second floor unit, with a balcony.  Heat included.  It is a short drive from downtown Augusta, from work, and from the local shopping plazas.  But, it is still far enough out of town to be peaceful.  And, the price was reasonable.  Plus, the landlords have always been on top of things like maintenance issues.
That was why what happened yesterday came as quite a shock.  I got word just after 4 PM that we had been served an eviction notice.
The reason?  They needed us out so they could do a significant amount of remodeling to our unit.
I can't really blame them.  With the way the Central Maine housing market, both sales and rentals, is going, it is the perfect time to turn a few units over.  The potential increase in revenue (higher rent) will pay for the renovations within a few months.
Before you asked, as our annual lease ended long ago, and we are at-will tenants, it is well within their rights to make this decision.
Given the current lack of housing, we reached out to the landlords, but they seem unwilling to negotiate about the timeframe.  So, we have 45 days to find a new place for the four of us.  Well, the five of us if you include DJ Catfood - yes, he is a real live cat.
We are still unsure if they are planning to turn over other units, or if they are just doing it with ours.
I am thankful that the few people who knew about our situation, up to this point, have been extremely helpful in our search for a new place.
So, has this happened to you?  How did it play out?
Also, if you know of any available rentals in the Augusta area, give me a shout.  You can message me through our app or on Facebook.
LOOK: Full List of the Best Places to Live in Maine
Stacker
compiled a list of the best places to live in Maine using data from
Niche
. Niche ranks places to live based on a variety of factors including cost of living, schools, health care, recreation, and weather. Cities, suburbs, and towns were included. Listings and images are from
realtor.com
. On the list, there's a robust mix of offerings from great schools and nightlife to high walkability and public parks.
Some areas have enjoyed rapid growth thanks to new businesses moving to the area, while others offer glimpses into area history with well-preserved architecture and museums. Keep reading to see if your hometown made the list.
10 Maine Museums
Do you love learning new things? Why not visit one of Maine's incredible museums? Here are 9 very unique museums that are probably less than a two hour drive from where you are now. Please Note: Some of these museums may still have limited hours or COVID-19 restrictions. So, please call ahead (check their website) and be prepared.
*Full disclosure, I have been "evicted" before.  Well, sort of…  It was close to 20 years ago.  I had just taken a job in New Hampshire.  As we were new to the area, my significant other (at the time) and I had been staying at a motel.  Her and I had an argument as I was getting ready for work early one morning.  As I was working mornings at the time, "morning" for me was about 4 AM.    The other tenants complained, so we were asked to leave.  Lesson learned.  That is why I never raise my voice when I'm at home.