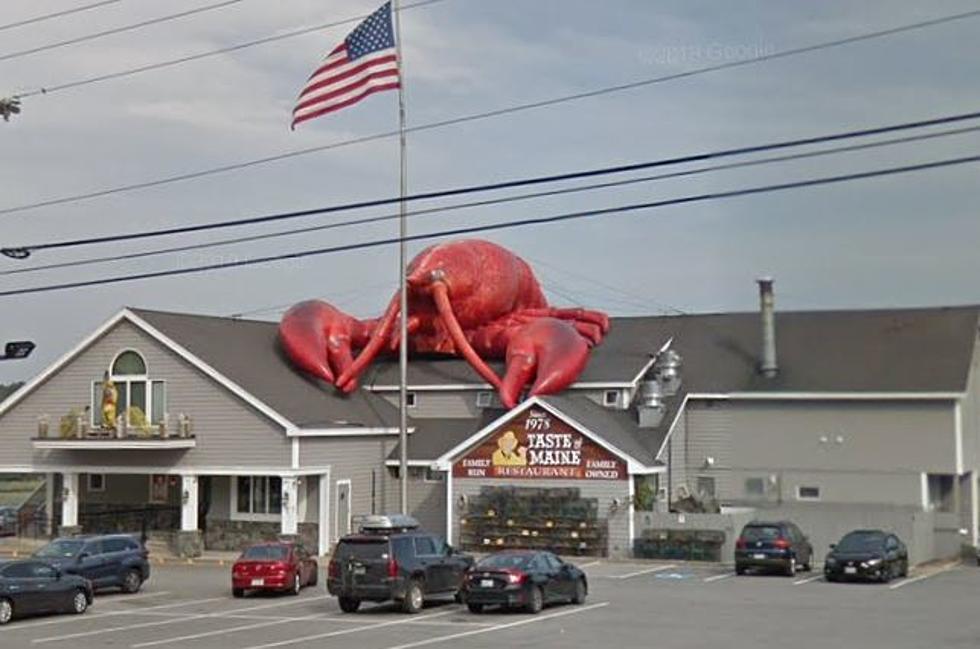 The Iconic Taste Of Maine Restaurant is Up For Sale & The Asking Price is Pretty Hefty!
Google Maps
Whether you know the place from the giant red lobster on the roof, the raincoat-clad fishermen checking his traps or their delectable and mouth-watering dishes, Maine's iconic seafood restaurant, The Taste of Maine, is now up for sale.
Located on Route 1 in the beautiful Maine town of Woolwich, the seasonal eatery posted on their Facebook page Wednesday that they are indeed up for sale.
The post went on to say in part,
I'm sure some of you have seen the "For Sale" sign on the Taste of Maine. Actually we started the process last May. With this being said this will in no way affect our up coming season. We will be celebrating our 45th year with the return of "larry the lobster" on the roof. We look forward to serving you in the spring.
The Taste of Maine, which always has a full parking lot during the spring, summer and fall months, isn't just home to some of the best food the state of Maine has to offer. It's also home to all kinds of live and local performances, too, including but not limited to several shows over the years from Maine's King of Comedy, Bob Marley.
Now, what would a Maine restaurant that has served millions of dishes on the water's edge since 1978 being going for? Well, according to BizBuySell, the massive 16,310 foot building has an asking price of $4,500,000.00. Yes, that's $4.5 million bucks. But, remember what you'd be getting.
A piece of Maine history that overlooks the gorgeous Pleasant Cove, the business has received several awards and accolades over the years for their famous fare, including Down East Magazine's Best Lobster Roll in Maine!
Of course, even though they're for sale, the business has no plans to close its doors. So worry not fellow hungry people, you'll still be able to enjoy all that food you've come to love over the years.
And hey, if you're looking to get into the restaurant business, this could be your in. Just write the check and be on your way!
Get Delectable Gluten-Free Meals At These 30 Popular Maine Restaurants
Gluten-free is a very healthy option right now and also a necessary one for some Mainers. Thankfully we've got a lot of options here in Maine. Here are the top restaurants in Maine that offer gluten-free meals!