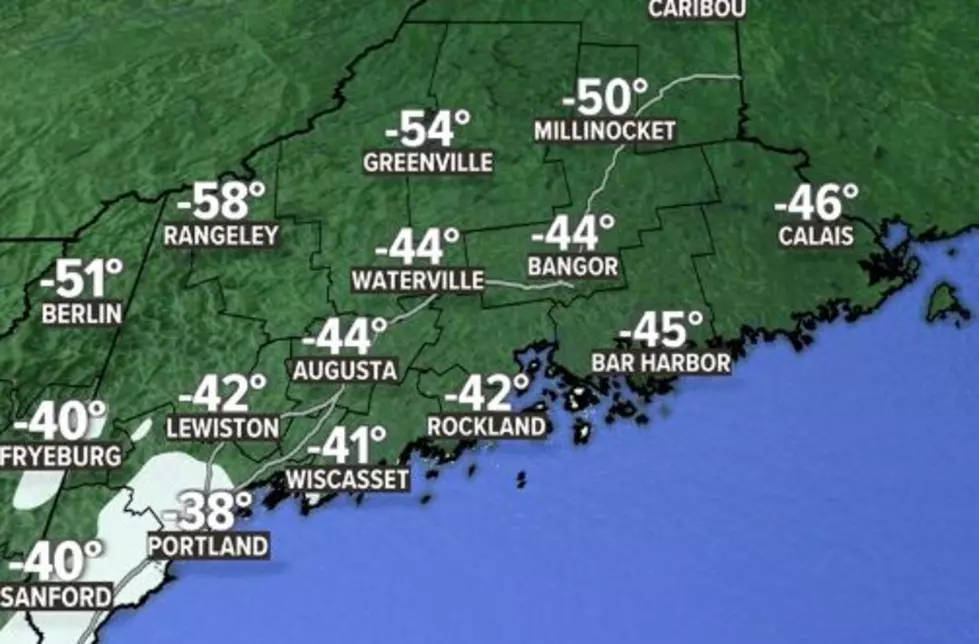 Fill The Tanks & Get Your Mittens Out, Maine is About to Get DANGEROUSLY Cold
Newscenter Sat Temps
Remember a few weeks ago when there was no snow on the ground and temperatures were so mild that people couldn't even go out and ice fish because most of the central Maine lakes and ponds were still (at least somewhat) open? Yeah, us too. That was a good time.
Fast forward a few weeks and most of us have towering snowbanks in our yards and our driveways are filled with ice that just won't melt. Well, now that we've had the 'snow' part of winter, buckle up for the 'cold' part of winter, cuz it's-a-comin'.
According to News Center Maine's, Jason Nappi, a strong cold front is going to bring what will be the coldest air of the season (so far) to Maine this weekend. Though the coldest temperatures of the week will arrive Friday night into Saturday, we will notice a slow tumble of the temps all week long. I like how that rolled off the tongue, say it with me, won't you? Ready? "Tumble of the temps!" Ahhh, that was fun.
Anyway, back on track now. Nappi says that a cold front will move in on Monday afternoon which will produce some snow showers, but it shouldn't be too much, maybe a trace of snow to 2 inches.
As we get towards the end of the week, the temperatures will absolutely plummet. The temperature on Saturday morning will be near -20 below zero, and that's WITHOUT the expected wind chill. Factor that in, and we will be closing in on -50 below zero here in Central Maine.
And, if you're wondering what's going to cause all this? Yeah, it's the freaking polar vortex. To hell with that thing, am I right? Like, where's global warming when you need it?
News Center Maine goes on to explain that wind chills at or below -35 will induce frostbite on pieces of exposed skin in ten minutes or less. So, with that being said, PLEASE use caution if you have to be outside this weekend and remember your pets!
We will update information with area warming centers as that info becomes available to us. Stay safe!
Great Sledding Places In Maine
Here are some of the best places to take your kids sledding in Maine. Keep in mind that some of these are suggestions from listeners. Because of this, if you are not going to a public space, you are going to want to reach out to the owners to make sure it is okay to sled on their property. *SLED AT YOUR OWN RISK*