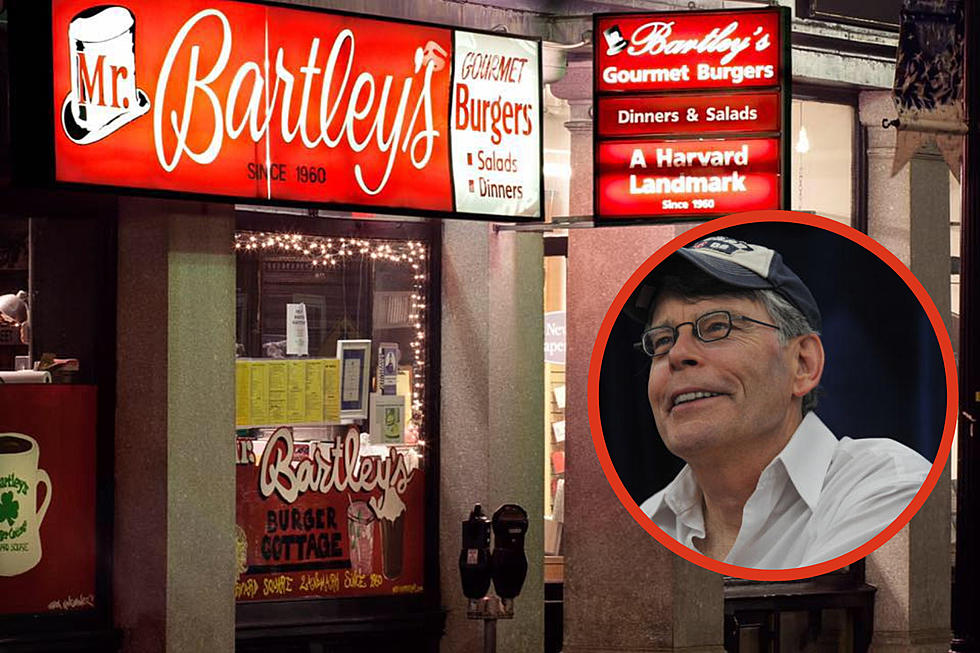 Want to Eat a 'Stephen King'? This Massachusetts Restaurant Names Its Meals After Celebs
Getty Images/ Mr. Bartley's Burger Cottage via Facebook
For $13.75 you can eat a Stephen King at Mr. Bartley's Burger Cottage. No, this isn't a horror movie. It's actually sounds pretty darn delicious! Let me tell you more.
Mr. Bartley's Cottage is located at 1246 Massachusetts Ave in
Cambridge Mass. It all started when Joe and Joan Bartley had a goal of refining the hamburger, according to their website. 
Initially, this modest spot only offered greeting cards and paper products alongside a small grill. However, as news about the burgers spread, demand grew and the menu expanded, leading to the start of Mr. and Mrs. Bartley's Burger Cottage, which has now become an iconic landmark in Harvard Square.
They have incorporated naming dishes after celebs and of course, have highlighted the legendary Stephen King.
Other celebs that have their own dishes include, Mac Jones, Bill Bellicheck, Matt Damon, Al Pacino, Tyra Banks and more! They use celebrities to name their burgers, wraps, salads, and apps!
Now what does the Stephen King dish consist of? It's a turkey wrap with roasted turkey breast, bacon, cheddar, lettuce, tomato, & house cajun spread, according to the website. 
We Mainers are the best judge of Maine-style things so I think you should make a plan to visit this adorable and legendary eatery and try a Stephen King! I have a sneaking suspicion, you'll love it!
8 TV Shows That Take Place in Maine And Aren't From Stephen King
17 Maine Restaurants Visited by Vacationing Celebrities
Many celebrities visit Maine and get the chance to eat at the numerous great restaurants the state has to offer. Have you had a chance to visit the local places below that these 18 celebrities have dined at?